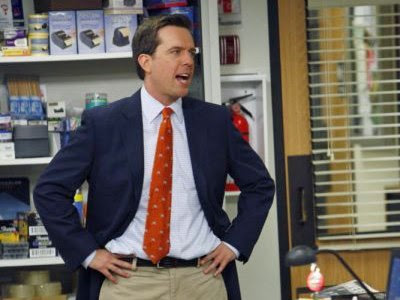 Are we getting Holly back? Because that would be fantastic.
In all the commotion surrounding the Grey's Anatomy season finale this week, I totally forgot that I also watched The Office's season finale. And it was pretty funny.
Kathy Bates returned as Jo, and she was laying the smack down on everyone in the office because someone had leaked the news about Sabre's printers catching fire to the media. Uh-oh! Jo and her giant horses/dogs were interrogating everyone and having their computers checked. Her method of interrogation was to ask everyone what they thought should be done to the whistleblower – people who said he/she should be fed to Jo's dogs were assumed to be innocent, people who suggested leniency were viewed suspiciously.
One of the funniest parts of this was that Michael was actually glowing with pride over his botched statement to the press. Forget that someone was a "whistleblower", he was the second most watched clip on Scranton's local news website! Number one was about a teacher who'd been wrongfully accused of being a pedophile. "We cannot let the pediphile win!" Michael exclaimed as he demanded everyone in the office watch his video 11 times. I guess Michael doesn't understand the word "wrongfully".
Everyone in the office suspected that Andy was the whistleblower. I love that no one in the office sticks up for each other. But it turned out that more people had been talking about the hazardous printers than just Andy. Darryl confessed to Michael that he'd mentioned it to a chick in a bar. She wasn't even hot. Pam confessed to Jim, then to Michael, that she'd told another mom at daycare about it. I could totally relate – it sucks to be the person with no cool stories to tell. Michael gathered them for a secret meeting in Meredith's van along with Kelly, who'd tweeted (and "Woofed – Ryan's new social media tool) about the printers.
Michael went back to Jo and told her that he thought the punishment for the whistleblowers should be to make them come to work every day and sit among their peers knowing they'd done something horrible. They'd still get paid, and they'd still get Christmas bonuses. But other than that, it would be awful. So, like every other day at the office.
Jo knew Michael was hiding something and she took him for a visit to her private jet. I was expecting intense intimidation and some sort of epic showdown, but instead the two just chatted. Jo had wanted to break the glass ceiling and act as a role model for little girls. She wanted to be so successful that they'd make a Barbie of her. She told Michael that she hated selling cheap printers. Michael told her that he'd had a terrible year. He'd bought a video camera the year before and all year he'd only recorded about 12 minutes of footage. And that was mostly of birds around his condo complex. He missed Holly.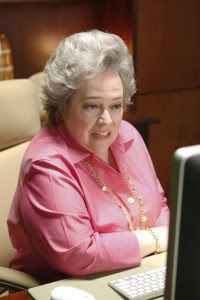 Back at the office, Gabe tried to conduct his own investigation. I still have no idea what Gabe's official role is, but he's all kinds of hilarious so I want to keep him. He asked Stanley if he was the whistleblower. Stanley said no. Gabe said "What a rich timber your voice has." What? Gabe decided that Andy was most likely the whistleblower, but he was only basing it on popular opinion.
The part of the episode that lost me was when the computer tech guy came to say goodbye – he was moving so that he could teach computer stuff to inner city kids. He was offended that no one in the office could even remember his name – not even Jim, who kept calling him "pal" and "champ" – and ranted about how they were all terrible people. This included revealing that Andy was, in fact, the whistleblower. This was a letdown for two reasons:
The whole scene would have been a lot funnier if the computer tech nerd was actually a recurring character. Like if we, the viewers, DEFINITELY knew his name and knew who he was, then it would be atrocious that no one in the office did. But instead it was just kind of weird.
I liked it better when no one knew for certain who'd leaked the story. Knowing that Andy did send an email to the media kind of took the fun out of the episode.
In the end, Michael agreed to read a statement to the press in place of Jo. Apparently she wasn't really mad, she just didn't want to be forever known as That Woman Who Recalled Printers. Hmm. Well, she sure seemed mad when she deliberately cut out a story about the printers from the newspaper and taped it over Pam's picture of the office. But OK, she wasn't mad. And there's a chance that she might bring back Holly. That makes the whole episode better, because I'd really like to see where the relationship between Michael and Holly can go. I think it can go to a very funny place.
What did you think of the season finale? Are you looking forward to next season?