Our Christmas tree has been adorned with presents since about the time we set it up. Somehow the plastic and metal legs of a naked artificial tree does not scream Christmas to me. So as presents began to get wrapped or as they were delivered, we did not hide them (all) away in a closet. We placed them under the tree where they belong. Granted, because we live in such a compact apartment (I'd like to pretend we live here to simplify, but the clutter would tell you I'm lying), there isn't really room to hide all of the gifts away.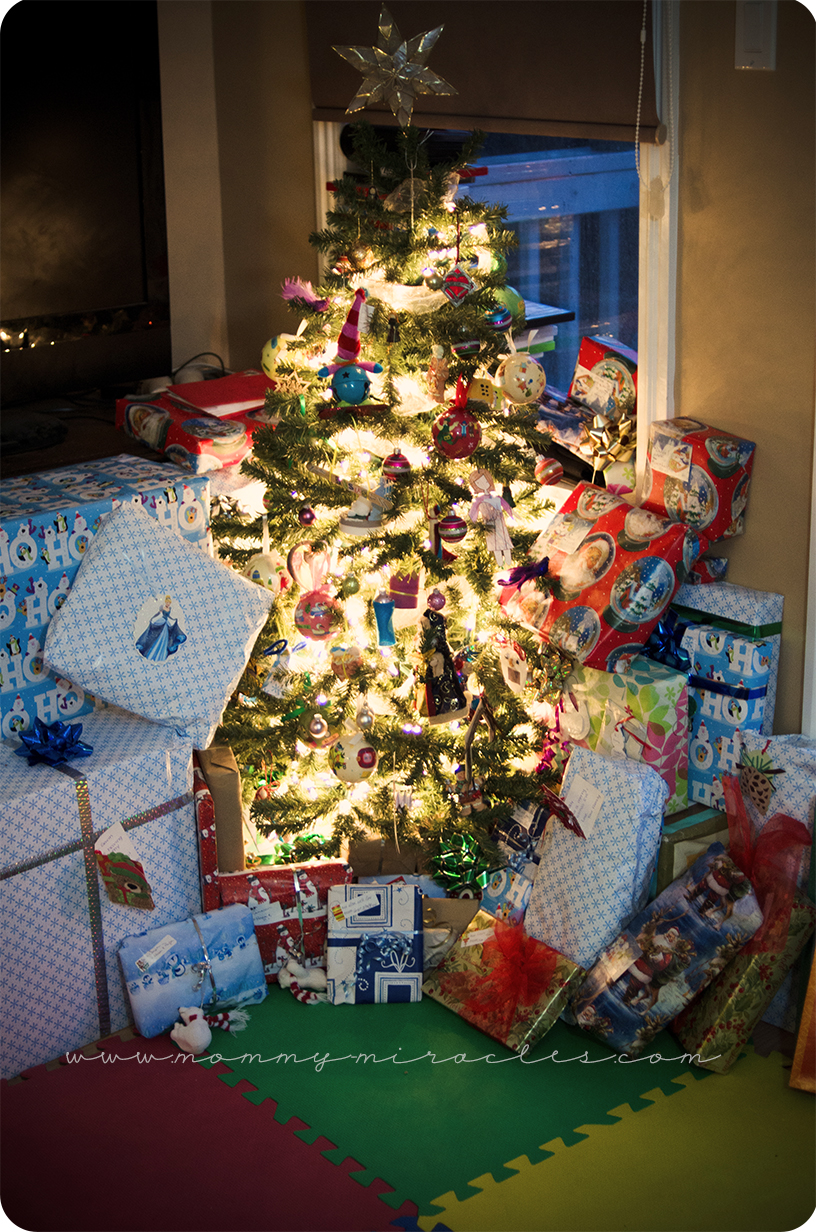 Recently, friends have been intrigued by this practice of putting presents under our tree before Christmas Eve. It is no secret that we have a toddler and a newly mobile baby. Presents under the tree are tempting, even for me! They are colourful and sparkly and covered with paper and tags and bows and ribbons that are just screaming to be ripped off. We have definitely needed to reinforce some wrapping and have placed some particularly tempting ones high, but all in all, our tree and the gifts below it have remained relatively unscathed.
This is all part of how we are teaching our children about Christmas.
*****
Before my husband even pulled out the box of Christmas decorations, Christmas materialism had made its way into my little two-year-old's consciousness. Although we no longer receive the quintessential flyer of desire, the Sears Wish Book, somehow a Chapters|Indigo magazine had wound up in our home. Cameron claimed that "book" as his and read it over and over. Eventually though, he started realizing that this "book" was full of things and he quickly wanted those things.
The flyer automatically changed from a treasured possession to a list of requests. "Can we go to the store and bring this home Mommy?"
So much want. So much "need". So much of it unnecessary.
*****
I have a confession to make. We overdo gifts at Christmas time. My husband expresses his love through gifts and he always has. I have been spoiled from the moment I walked into his life. I very much want to make him feel special in the same way that he makes me feel special. In the past I have royally screwed up many of the gifts I planned for him, so I try hard to make up for those experiences. We don't do simple at Christmas. And because this is our first Christmas at home together, this year is no exception.
*****
Christmas should never be about the gifts. Or rather, it should never just be about the gifts. But gifts do have a place in our Christmas tradition. We give gifts because we were given a Gift. We give gifts to celebrate a birthday. We give gifts to show our love just like That Gift was given because we are so loved.
*****
Mary waited nine months. She prepared and moved and travelled and made her heart ready for nine months. A pregnancy is no quick thing, but it always goes by faster than expected. And as I sit here, a week before Christmas, I know that Advent has been that way for me. It has been beautiful and overwhelming and busy and quick. Yet, I remember those days leading up to Christmas as a child. Those days moved so slowly, as if Christmas day would never come.
Seeing those gifts under the tree, they remind us to get excited. They remind us to wait. They remind us to be patient. And, just like my two year old is not quite sure when we will be able to open those gifts, they remind us to expect greatness. We are reminded that gifts come in different shapes and sizes. Sometimes they look beautiful with bows and ribbons and fancy paper, and sometimes they are wrapped in cloths and found in a manger.
Source: http://feedproxy.google.com/~r/MommysMiracle/~3/fugpPhJ23Pc/thoughts-on-gifts.html