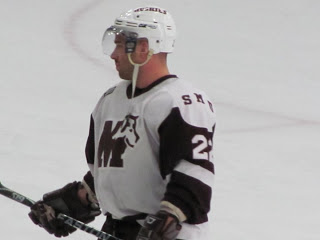 Mike Danton and the Huskies begin their CIS title defence tonight in Antigonish vs. the X-Men

(photo credit: Richard Lafortune)
by Bill McLean
Men's Hockey Semi Finals
#2 Saint Mary's at #3 Saint Francis Xavier
Easily the most exciting playoff match up in the country gets started tonight in Antigonish. Most pundits are picking the best of five series to go the distance and some think the X-Men are primed for an upset. St FX swept the four games from the defending national champions during the regular season and have the physicality and depth needed to bring down the Huskies. Leading scorer Chris Hulit is playing as good as anyone in the conference, Spencer McAvoy leads a big, talented defensive core, and Joey Perricone is arguably the best goaltender in the conference.
The Huskies respond with all the usual suspects ready to go, a deep and talented roster, and that characteristic Huskies swagger. The Huskies are built for the playoffs and feature size and skill at every position. After a January slide that saw the champs reeling with five straight losses, the Huskies finished the regular season with five straight wins including a 3-1 drubbing of the top ranked Varsity Reds at the Forum. Veterans Andrew Hotham (37 pts) and Cam Fergus (32 pts) are leading the way while Chris Mackinnon and Kyle Wharton have proven to be outstanding additions.
Expect this series to be full of drama, intrigue, physicality, speed….and to go the distance.
Women's Hockey

Mount Allison (9-13) at Moncton (15-7)
Both teams have clinched playoff berths, Le Aigles Bleus are locked in at the two spot and will have a first round bye at the AUS championships, while the Mounties are still battling for seeding. Dalhousie, St.Thomas, Saint Mary's, and Mount Allison are all separated by only 3 points heading into the final weekend. The only question is can any of those four teams actually come close to beating X or Moncton in the semi finals.
Women's Basketball

UNB (14-4, 40 pts) at St.FX (12-6, 34 pts)

Outstanding match up of two teams with championship aspirations and hitting stride right at the perfect time. St FX, CBU, and UNB are all in contention for the top two spots and a first round bye at AUS championships. Despite leading CBU by four points and X by six, the Reds will need to win at least one game this weekend to secure a bye. The Capers and X-Women both have a four point game with Carly Clarke's rebuilding UPEI Panthers this weekend so you can add four points to their standings total already. Therefore if the Reds get swept by X and CBU this weekend, they'll finish third and have to play a first round game in St. John's. Don't think UNB coach Jeff Speedy isn't aware of this and expect him to have Amanda Sharpe and the Corby sisters fired up. X responds with the most athletic, deepest team in the conference that will try to blitzkrieg the Reds in the first quarter with their full court pressure and running offensive game. Should be a dandy!
UPEI (0-18) at Cape Breton (14-4, 36 pts)
With a first round bye in his sights, don't expect Fabian Mackenzie to take it easy on the Panthers tonight in Sydney. Even with a guaranteed four point win tonight, if X beats UNB in Antigonish, the Capers will have to beat UNB tomorrow night to secure a pass to Semi Final Saturday at AUS Championships. The Panthers have the unfortunate chore of finishing their season on the road playing two teams battling for byes, but Carly Clarke's troops have shown remarkable progress this season and appear on the verge of becoming competitive again after Clarke overhauled the program two years ago.
Men's Basketball
UNB (8-10, 20 pts) at CBU (17-1, 46 pts)

The Capers finish the season with a weekend set of pivotal home games ripe with playoff implications…..for their opponents. As for the champs they have first place in the AUS wrapped up and can use the weekend to fine tune for semi final Saturday at the Metro Centre on March 5th. As for UNB, an upset in Sydney would give them four points in the standings and their first playoff game in the Brent Baker era. The Reds can still make the playoffs even with a pair of weekend losses if one of the following happens; UPEI loses both their games at X and CBU or SMU loses to Dal or Acadia drops one game to MUN. However UNB would definitely want to finish fourth or fifth and avoid a first round match up with the X-Men.
UPEI (7-11, 18 pts) at St FX (13-5, 34 pts)

For the story of this game basically see above and substitute X for CBU and UPEI for UNB. The X-Men are locked in as the third seed at AUS Championships and are basically trying to work on chemistry and getting healthy. The Panthers are desperate for a win tonight versus the X-Men or tomorrow night at Cape Breton. Amongst other scenarios, if Acadia sweeps the last place Seahawks in Wolfville, and UPEI loses both their games, the Panthers will be out of the playoffs. Basically if the Panthers can pull off a shocker tonight or tomorrow, their in. If they don't, they'll have to cheer for Memorial to pull of a shocker at Acadia.
Here are the standings and tiebreakers for the AUS as we approach final weekend.
1. Cape Breton (clinched bye)
2. Dalhousie (clinched bye)
3. Saint Francis Xavier (clinched third place)
4. UNB 20 pts ( at CBU (4) at X (4) )
5. SMU 20 pts (at Dal )
6. UPEI 18 pts (at CBU (4) at X (4) )
7. Acadia 14 pts ( 2 games vs MUN (8) )
8. MUN (out of playoffs)
In case of last place tie;
UNB has tiebreaker on SMU
UPEI has tiebreaker on Acadia
Confused? Should be a wacky final weekend. My prediction is this:
4. Acadia – 22 pts
5. UNB -20 pts.
6. SMU – 20 pts.
7. UPEI – 18 pts (out of playoffs)
That would make Friday's matchups at AUS Championships the following;
#4 Acadia vs # 5UNB
#3 St FX vs #6 SMU
The X-Men vs Joey Haywood could be alot of fun! But don't count out a resilient group of Panthers from winning a game this weekend, and remember the Axemen are 1-10 in their last 11 and could easily lose a game at home to Memorial.
It will be interesting drama to say the least.
Sportstream.ca is the official webcaster of the Subway AUS Men's Basketball Championships. Follow us on twitter @_sportstream_.