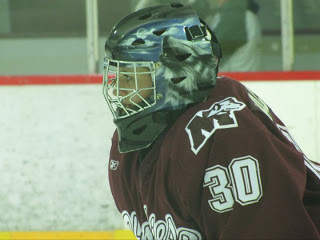 Jillian MacIsaac will be busy today vs. the nationally ranked X-Women.

(photo credit: Richard Lafortune)
by Bill McLean
The defending AUS champion Saint Mary's Huskies will be looking to hand the Saint Francis Xavier X-Women their first loss of the season on Senior's Day at the Alumni Arena.
The X-Women are the third ranked team in the country with a record of 22 wins and no losses. Led by the high scoring duo of Janelle Parent (40 pts) and Alex Normore (38 pts), St FX has outscored their AUS opponents 106-32.
The X-Women's biggest strength may be on the blue line where they have an outstanding balance of size and skill. Diminutive captain Suzanne Fenerty has 20 pts this season and Marilynn Hay and 6'4" Jenna Downey provide alot of stability on the back end.
The Huskies have clinched a playoff spot and can still finish anywhere from third to sixth in the standings as the season comes to a close this weekend. Saint Mary's is 7-5 in 2011 after a rough start before the break.
Lauren McCusker, Kyla Thurston, and Courtney Schriver have combined for 68 points to lead the Huskies scoring attack. Goaltender Jillian MacIssac has played in all 23 games this season and has a solid Goals Against Average of 3.13.
Before the opening face off the team will be paying tribute to their seniors playing their last game at Alumni Arena. The list of seniors includes 5th year standouts Seyara Shwetz from Waskateneau, Alberta and local Halifax product Schriver.
Game time from Alumni is 2:00 and it will be webcast on sportstream.ca. Bill McLean will have the call.
Sportstream.ca is the webcasting home of the Saint Mary's Huskies and the Subway AUS Men's Basketball Championships. Follow us on twitter @_sportstream_ and check us out on facebook.