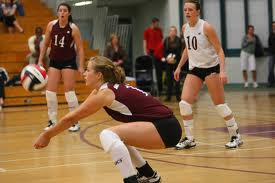 AUS MVP Kerri Smit will be looking to lead the Huskies to another AUS Championship game.
(photo credit: Nick Pierce)
by Bill McLean
AUS Women's Volleyball Championships in Sydney- Semi Final Saturday
#1 Saint Mary's Huskies vs. #4 Saint Francis Xavier X-Women
The X-Women held off a feisty Moncton team in the early going last night to cruise to a 3-1 quarter finals victory. They'll have a much tougher time today against the defending champs featuring the AUS MVP in Kerri Smit. The Huskies finished 10 points ahead of X in the standings and are loaded with veteran talent in Smit, Ali Beaver, Keisha Muisse, Liz Cozulich, and Amy Crider. The addition of second team all stars Jane Pegg and Tessa Felix has helped to seperate the Huskies from a conference that has been a log jam for several seasons. The X-Women counter with first team all star Katherine Ryan, second team all star Catherine Thornton, and Rookie of the Year Jessica Roberts.
#2 UNB Varsity Reds vs. #3 Dalhousie Tigers
Outstanding match up of height and experience vs youth and athleticism. The Varsity Reds feature a roster with five players over six feet tall including fifth years seniors Jillian Blanchard and Erica Hay. The Tigers may have the most dynamic outside hitting team in the conference and have depth at every position but not one player past three years of eligibility. The critical match up could be Kirstie Shepherd vs Celina Abba in the middle. Both players have explosive jumping ability and show alot of emotion on the court.
Men's Hockey – Quarter Finals
Game 2- #3 St FX X-Men vs #6 Dalhousie
The X-Men dominated the Tigers on Thursday night in Antigonish 4-0, but it could have been much worse had Tigers netminder Bobby Nadeau not turned away 35 shots. If the Tigers are to have a chance in their first home playoff game in nearly a decade they'll have to stay out of the penalty box and muster more than the 14 shots they had in game 1. This game is on ssncanada on the web and Eastlink on TV.
Game 2- #4 Acadia vs. #5 UPEI
Match up of two teams that struggled near the end of the regular season. The high scoring Panthers were shut out by the defensive minded Axemen 1-0 last night in Wolfville. Kristopher Westblom made 25 saves for Acadia for the shutout.
Women's Basketball
Dalhousie (4-13, 14 pts) vs. Acadia (7-8, 20 pts)
The last stand for the Tigers. With an Acadia win the Axewomen will secure the final playoff spot and eliminate Dalhousie. Tigers are 1-8 in their last 9 games, Acadia is 6-4 in their last 10.
Cape Breton (14-3, 36 pts) vs UNB (13-4, 36 pts)
Possibly an AUS championship preview. Both teams are athletic, high scoring, and love to push the tempo. The Capers athletic backcourt of Jahlica Kirnon and Tanira McClurkin vs the Corby sisters of UNB will be alot of fun while the match up of the UNB's dynamic duo of Claire Colbourne and Amanda Sharpe vs. 5th year senior Keri Everitt will go a long way in determining the victor. The X-factor could be the play of Denisha Haywood for the Capers. When motivated, she is a game changer on both ends of the floor.
Saint Francis Xavier (11-5, 32 pts) vs Memorial (10-6, 28 pts)
Another potential AUS championship preview. These two teams split in Antigonish a month ago but it's a lot harder for a road team to win in St. John's than the Oland Centre. The X-Women attack in waves while the Seahawks counter with high scoring gunner Grace Fishbein and outstanding post play by the duo of Alex Forsey and Jennifer Parsons.
Men's Basketball
Acadia (4-11, 12 pts) vs. Dalhousie (12-5, 40 pts)
Tigers have secured a bye and still have an outside chance at first place, but are essentially just trying to stay sharp and focused. Despite being in seventh place and six points out of a playoff spot, the struggling Axemen are still in the drivers seat for a sixth seed. They have a pair of four point games vs Memorial at home to finish the season and a home game vs the Huskies, one of the teams they are trying to track down. The bad news? Acadia has lost eight straight games. They don't need to beat the Tigers today to stay alive but a positive performance would go a long way in rebuilding confidence.
Cape Breton (16-1, 42 pts) vs. UNB (8-9, 20 pts)
The Capers are 1 win and 1 Tigers loss away from securing first place. What does this mean? The team that finished first will avoid a highly probable semi final match up with the Saint Francis Xavier X-men. The Reds are the feel good story of the AUS, making huge strides in Brent Baker's third year of rebuilding the program. On the verge of securing a playoff berth, look for UNB to give the champs all they can handle in the Pit.
Saint Francis Xavier (11-5, 30 pts) vs. Memorial (3-13, 8 pts)
The X-Men are probably the most feared team in the conference but have yet to meet their potential. Built for a national championship, the X-Men have struggled to find consistency all season. While Dalhousie and Cape Breton hope they don't figure things out, this weekend trip to St.John's could be just what Coach K needs to get all his troops on the right page and focused on a championship run.
Women's Hockey
Saint Mary's (9-13) vs. Mount Allison (9-12)
Huskies took care of business vs. the Panthers last night while the Mounties nearly pulled off the shocker of the year, losing to the undefeated X-Women 3-2 in OT.
St.Thomas (9-13) vs. Dalhousie (10-12)
Tommies have beaten the Tigers two out of three times this year. Could be a critical game in determining third place for AUS championships. The Tigers are coming off a heartbreaking loss last night to Moncton.
Saint Francis Xavier (21-0) vs. UPEI (3-19)
The X-Women nearly saw their undefeated season come to an end last night in Sackville. They'll be looking to get back in form vs. the last place Panthers. This one may not be pretty to watch.
Sportstream.ca is the webcasting home of the Saint Mary's Huskies, Halifax Rainmen, Metro Marauders, and the Subway AUS Men's Basketball Championships. Follow us on twitter @_sportstream_