Athens Restaurant
6273 Quinpool Rd, Halifax
Recently I joined my friends Megan and Alaska for a birthday brunch extravaganza!  I meant to just pop in for brunch, but ended up walking down Quinpool Road with a happy face heart balloon, eating ice cream in a park and day drinking in their north end backyard.
I left before the main festivities began.
These girls are serious about birthdays.
Athens Restaurant is one of those classic Halifax institutions. It may not be the most frilly brunch place, but it is licensed AND they serve eggs benny so it is a step above the greasy spoons.
The menu features 3 Brunch Bevvies for $5.99 (10am-4pm): Bailey's Iced Coffee, Caesars and Mimosas.
The Caesar was actually better than the one I had at Edna and the price was decent. After a round of Caesars and mimosas, we switched to Stellas.
Our server seemed amused by our mid-week noon'o'clock boozing, but it turned out that the elderly table nearby was drinking just as much as we were! We are grateful that our server put up with out antics – he was friendly, funny, personal and prompt and did his best to clear away plates from the war zone that was our table.
As for the food –
Eggs Benny ($9.99) is what Megan came for and she wasn't disappointed.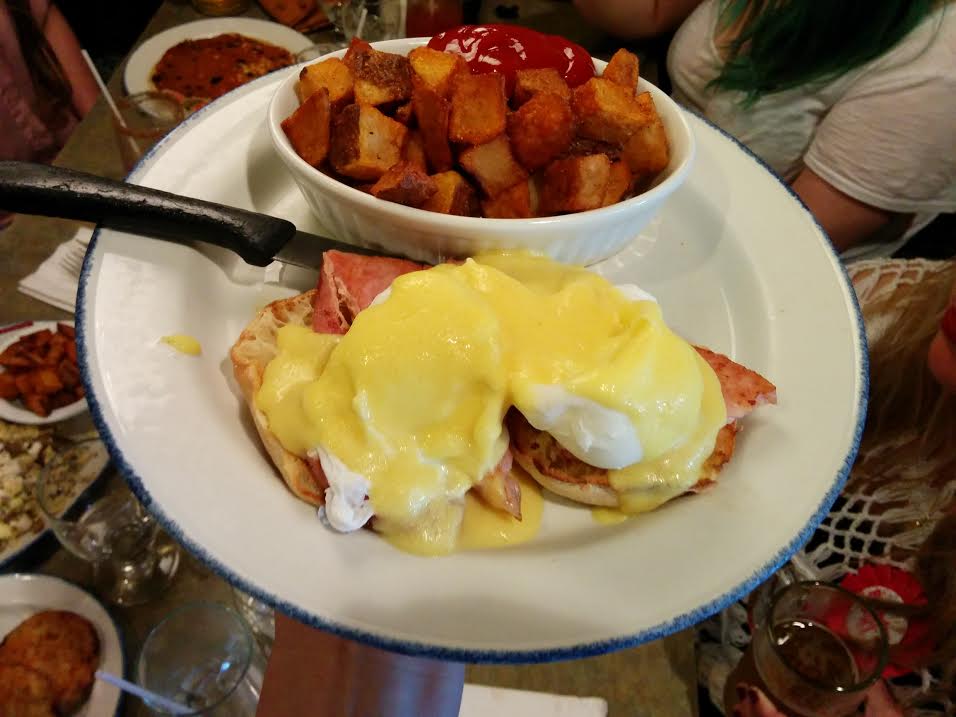 Alaska had the Greek Florentine ($11.99) – a benny with wilted spinach and grilled tomato, sprinkled with feta and oregano – you gotta love the Greek twist on breakfast.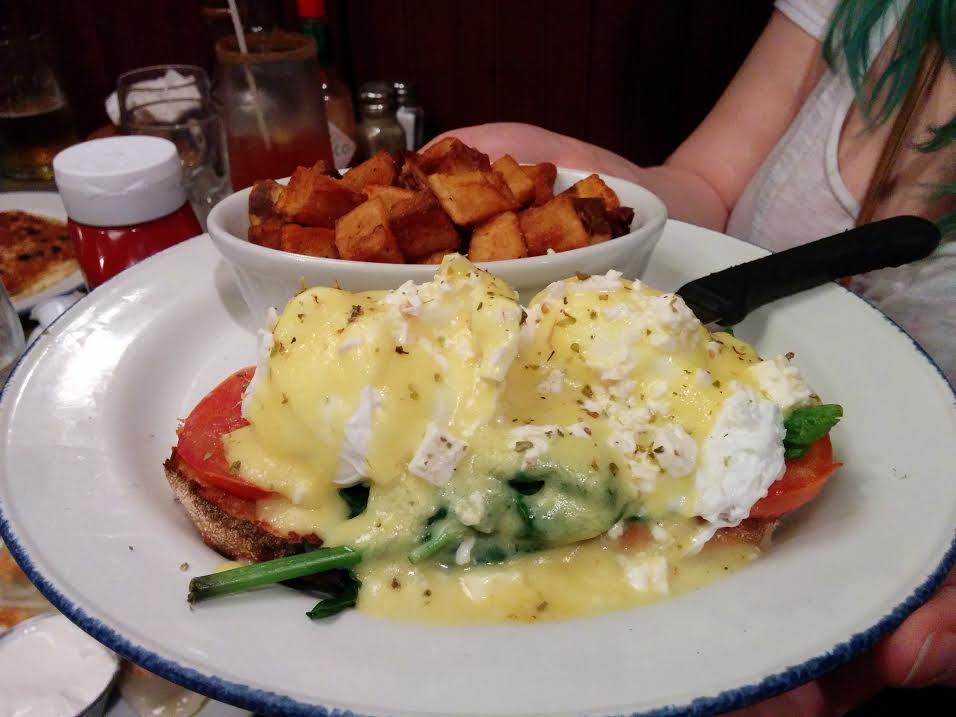 Desiring to stick to the Greek theme, I ordered the Athens Scramble ($11.99) – 3 scrambled eggs with loukaniko (Greek sausage), onions, mushrooms, feta and oregano. I found the flavours mild, so I drenched it with a side order of Hollandaise sauce ($1.99). Now I was in serious brunch business. Yum yum.
Kate, our on-site vegetarian, just ordered a Single Specialty Pancake ($3.99) with a Vanilla Yogurt with Granola ($2.99) and this was more than enough to fill her up. She seemed particularly keen on the yogurt. The specialty pancakes come in either chocolate chip or blueberry. A full order is $8.99.
A standard breakfast at Athens is $7.49, which includes two eggs and your choice of meat (bacon, ham, sausage) OR cool things like falafel and perogies!
We just went all out and ordered a bunch of extra sides! We had a side of bacon ($3.29), perogies ($3.99), falafel ($3.99) and fishcakes (not listed as a side but they'll do it for ya!). Our table was covered in booze and odds and ends – so much so that the dining experience was verging on a glamourless brunch tapas.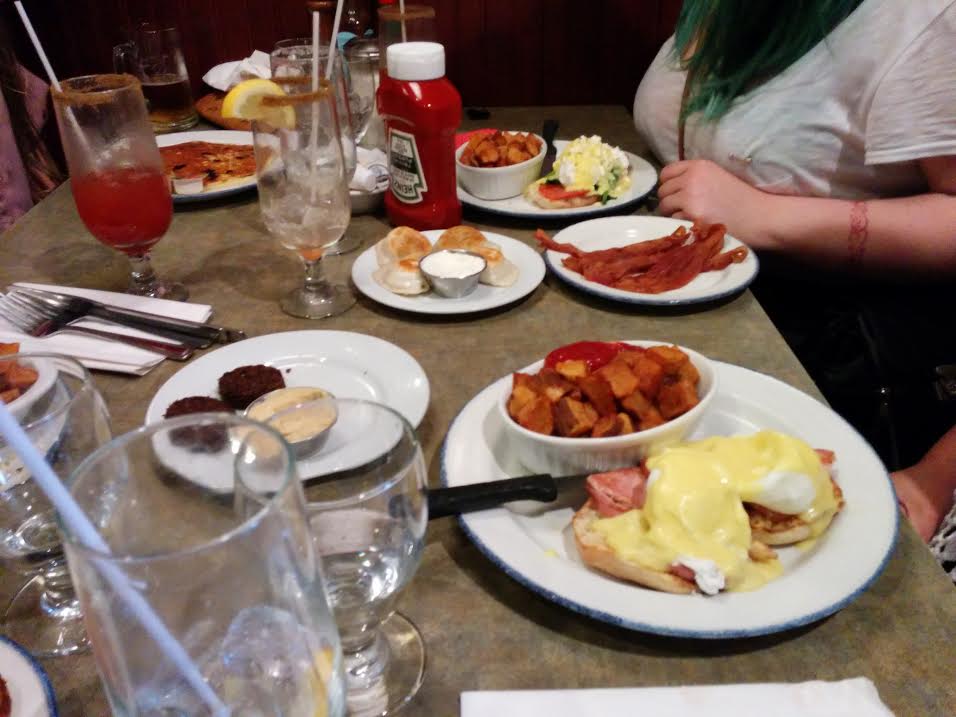 This may not be the best brunch I've ever had, but it's probably the most fun brunch I've had! Athens makes some pretty solid food. The menu offers a little bit of everything – from steak 'n' eggs to fishcakes 'n' eggs to Greek-themed fare. They even have The Hercules ($14.99) which blows away any Lumberjack I've seen – 3 eggs, loukaniko, perogies, bacon, ham, sausage and 2 regular pancakes!
On Saturdays and Sundays there is a Brunch Buffet ($11.99 / $8.99 for -12, $10.79 for +65).