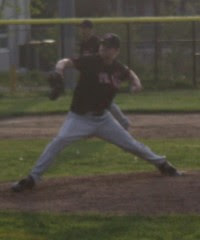 Mike Butler was stellar on the mound for the Canadians
by Joel MacDougall
The Molson Pelham Canadians rode the arm of Mike Butler to a 5-1 victory over the Kentville Wildcats in Nova Scotia Senior Baseball League action Tuesday evening.
Butler threw 7 2/3 innings, striking out 11 and allowing only three hits to record his second victory on the year. It wasn't until the top of the eighth that the Wildcats were able to find any chink in Butler's armour.
Following a couple of Halifax errors, Kentville was able to put one run on the board and brought the Cleve's Player of the Week, Curtis Hall to the plate with the bases loaded. Hall represented the tying run, but relief pitcher Barrett Bellefontaine, forced him to ground out to end the inning.
Halifax jumped out to an early lead, touching up Kentville starter Kevin Nichols for five runs over three innings. Kevin Daurie and Shayne Conrad combined to pitch six scoreless innings in relief for the Wildcats, giving them a chance to try and mount a comeback. But it proved to be too little-too late, as Butler was just too strong on the evening.
Kentville travels to Dartmouth to take on the Mooshead Dry on Thursday, while Halifax is off until next Tuesday when they host the Truro Bearcats.