Ah, meal planning…it's a daily necessity and while some don't have an issue with it, a good portion of us do.  The days when a single income family was the norm is all but an anomaly.  My generation might have been able to squeak by on one salary but these days that's not the case.
According to Stats Canada, in 1976, it was the norm in dual-earner families for both spouses to work full time (66%). By 2015, 75% of dual-earner couples with children had two full-time working parents.  With couples both working, is it any wonder time is the one thing we don't get enough of? Nourishing our bodies does not mean more time spent in the kitchen.  On the contrary, there are plenty of 30-minute weekday meals that don't hurt the pocketbook and are easy-to-make.  I've highlighted 8 dishes to inspire and help you with meal planning.  Some are less than half an hour to get dinner on the table.
This Asian-style beef noodle salad will wake up your taste buds.  Super fresh tasting with a hint of flavors from Thailand.  Click here for the recipe.
Shake up mac 'n cheese by using store-bought gnocchi.  Who doesn't like potatoes and cheese?  Click here for the recipe.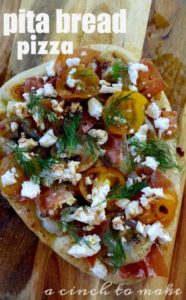 Pizza night is a perfect opportunity to get the whole family involved in the dinner making process.  My recipe is as stated, 'a cinch to make'.  Use the ingredients as a guideline and choose what you have on hand in the fridge.  If you don't own a barbeque, use your oven.  Click here for the details.
This one-pot wonder is so darn good you'll want to make it again and again!  Serve it as a side or main meal.  Click here for the recipe.
Not sure what to do with that packet of instant noodles sitting in your pantry?  Make this ramen-style soup and let the aromas of Asia fill the kitchen and make your tummy growl.  To make this, click here for the recipe.
Be an Italian for a night and make this seafood and fish stew – not only is it scrumptious, it's a forgiving dish you can't really mess it up!  Click here for the recipe.
Eggs aren't just for breakfast or brunch.  Braised eggs with pork are perfect in this hearty meal. There is nothing more tantalizing for our taste buds than spices and herbs…the natural way to enhance the flavor of food and this recipe will definitely awaken the senses. Crunchy bits from the nuts, a bit of heat from the chili flakes and lemon accents with the sumac make this dish one to make again and again.  Make it tonight!  Click here to view recipe.
Udon noodles are a useful staple to have in your pantry as they are perfect in a soup, stir-fry, and as a substitute for pasta dishes. The noodles are available at local grocery shops usually found in the Asian or International section.  Click here to view recipe.
The Culinary Chase's Note: I hope you will try one or all of these dishes.  Enjoy!