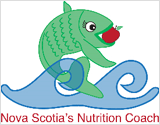 Edie Shaw-Ewald is a Registered Dietitian and Personal Trainer, and a regular contributor to the Bedford Beacon.
She coaches clients to use real and natural foods to achieve their healthiest body and mind.
She runs her own business called Nova Scotia's Nutrition Coach:
This March Break we decided to have some local family adventures, a 'staycation', if you will. Midweek the four of us and Bella left for an overnight in Windsor and a ski day at Martock. A dinner of perfection at a chic restaurant called "CocoaPesto' was a highlight and the next morning we awoke to find that Mother Nature had blessed the ski hill with 5 cm of fresh snow!
On the way home Mike and I hatched our next local family adventure. Friday, we would take the boys to the Kartbahn facility in Halifax. Kartbahn is an indoor race track where you can careen around in go-karts for $19 / 8 minutes. YES….we decided, THIS would be another fun family event and the boys would be thrilled!
Over a bowl of hot steaming soup we announced the Kartbahn plan to the boys. We expected to hear exclaims of "Cool!", "Sweet!" Instead, without missing a beat, William says " I think I have had enough family time for the week", Lauchlin quickly agrees," Yes, me too, and it is too expensive anyway." Mike and I look at each other, dumfounded. The tables have turned as it is now THEY that need a break from US!
Such is the life of a parent – a life of love, growth and constant change.
"It kills you to see them grow up. But I guess it would kill you quicker if they didn't."
– Barbara Kingsolver
William asked me to make a ginger cookie that was chewy and crispy…not crunchy. I have always loved those kind of ginger cookies too – but those recipes always include that nasty fat: shortening. I wanted to find a ginger cookie recipe that could be a family classic without using that processed white goo.
This is an adapted recipe of pastry chef, David Lebovitz and it is perfect! It does have a lot of sugar, but it is so spicy, so chewy that one or two with a cup of tea will satisfy!
So, at the end of our family time march break staycation, I present to you the recipe for:
FAMILY TIME GINGER COOKIES
1 cup, packed, dark brown sugar
1/4 cup baby prune puree – you could also try applesauce or pumpkin puree
1/3 cup molasses
2 1/4 cups flour (I used spelt – but all purpose is fine too)
1 teaspoon baking soda
3 teaspoons ground cinnamon
1 1/2 teaspoons ground dried ginger
1/4 teaspoon ground cloves
1/2 teaspoon freshly-ground black pepper
1/4 teaspoon salt
2 large egg whites, at room temperature
1/2 cup finely-chopped candied ginger
additional sugar mixed with a little cinnamon for rolling the cookies
In large bowl, beat the brown sugar, prune puree and molasses for five minutes at medium speed.
In another bowl, whisk together the flour, baking soda, spices, and salt.
Add the egg whites to the prune-molasses mixture. Beat another minute.
With the mixer on low speed, add the dry ingredients and mix until well blended.
Stir in the chopped candied ginger.
Put the batter in the fridge to chill for at least 30 minutes.
Preheat the oven to 350F (180C). Line the baking sheet with parchment paper.
Pour some cinnamon- granulated sugar in a shallow baking dish. Scoop the cookies into heaping tablespoon-sized balls and roll them in the sugar. Place them on the baking sheets a couple of inches apart as they will spread.
Bake for 12-14 minutes, or until the cookies feel just barely set in the center.
Let cool on a cooling rack.
Keep the cookies in an airtight container for up to five days.
Enjoy them with tea and your family!
Source: http://www.bedfordbeacon.com/family-time-ginger-cookie