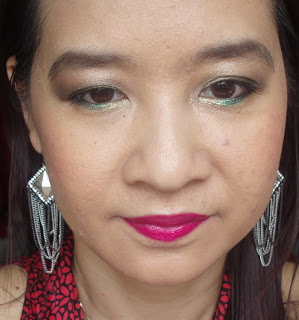 It is a horrible rainy day today but I have another bright lip colour to cheer myself up. Can't you tell I'm so ready for summer?
This is Make Up For Ever Aqua Rouge in #16 Fuchsia.
I couldn't be more excited to receive this shade, the boldest among 5 Aqua Rouges from the summer Aqua collection, and my very first Aqua Rouge at that.
This was one coat of the colour, and one coat of the clear gloss with enough dry time in between. It last long on me, did not dry my lips out nor make them feel heavy.
After lunch and my herbal tea, it did fade a little but there was still enough colour on my lips to look good. I added some lip balm on top, and it was as good as new. Good to have a lip colour that you can count on for a whole day wear.
Other products used on my face:
– Sunscreen: Vichy Bare Skin Feel lotion SPF45 (review coming soon)
– Serum: Vichy LiftActiv Serum 10
– Moisturizer: L'Occitane Immortelle Precious cream
– Primer: Annabelle CC Instant Perfecting base in Luminous finish
– Foundation: Marcelle BB cream in Medium to Dark
Another lazy day, no foundation type of look
– Concealer: LA Girl Pro Conceal HD concealer in Pure Beige
– Powder: Annabelle CC pressed powder in Light/ Medium
– Brows: Annabelle Skinny brow liner in Universal Medium
– Blush: Milani Baked powder blush in Corallina.
For the eyes:
– Base: Maybelline Color Tattoo in Audacious Asphalt
– Eyeshadows and brow bone highlight: the green toned eyeshadow palette from The Color Institute Get Baked! set. This brand is under the Markwins umbrella which also includes Wet n Wild, you could see the similarity in the palette format
– Eyeliners: Annabelle Smoothie eyeshadow pencils in Absinthe-Minded and Licoriche, and Gosh Velvet Touch eyeliner in Banana for the inner corners
– Mascara: Lancome Definicils HD mascara in Black.
Have you started making plans for the Canada Day (or the 4th of July for those in the US) long weekend yet? Too bad I'll be busy packing. How do you pack your makeup/ nail polish to avoid breakage during a move? I'm worried!