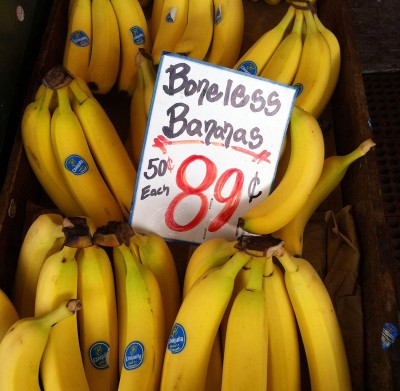 It's back! Weekend grocery warriors: Here's a roundup of grocery deals for March 22 – 28 courtesy of namegirl on Reddit.
Large Whole Pineapple – 2/$5

Extra Lean Ground Beef Value Pack – $2.99/lb ($6.59/kg)

Asparagus – $1.99/lb ($4.39/kg)

Scotsburn Ice Cream – $2.99

Butterball Turkey – $1.99/lb ($4.39/kg) Better at Superstore

Smoked Pork Shoulder – $1.49/lb ($3.28/kg)

Pork Loin Roast Centre Cut – $2.99/lb ($6.59/kg)

Sweet Potatoes – $0.99/lb ($2.18/kg)

Pepsi 2L – 4/$5

Charmin Bathroom Tissue – $4.99
3-Day Sale Fri-Sun
Tropicana 1.75L – $1.99

Wonderbread – $1.59

PC Cooked Shrimp Ring – $4.99

Biggie Bunnies – $1.99
Whole week
Butterball Turkey – $1.49/lb ($3.28/kg)

Large Broccoli – $1.29

Cracker Barrel Cheese (400/500g) – $3.99

Prime Rib Oven Roast – $4.88/lb ($10.76/kg)

Coca Cola 15x355ml – $2.99

Fresh Atlantic Salmon Filets – $5.99/lb ($13.21/kg)

Pepsi 12x355ml – 2/$7

Maple Leaf or Natural Selections Bacon – $3.99
From /u/discowalrus:
You may want to include Superstore's Italian Cheese promotion in your list. This coming Saturday the 23rd and next Sat. the 30th each superstore is 'cracking' large wheels of aged parmigano reggiano and selling chunks for 25% off. 22 months old on the 23rd and 36 months old on the 30th. A rare opportunity to buy a lot of the king of all cheeses at a great price, folks. This is the best sale at the moment.
Armstrong Cheese 500g – $3.97

Frozen Utility Turkeys – $1.17/lb ($2.58/kg)

White Potatoes 10lbs – $1.67

Boneless Pork Loin Roast – $3.97/lb ($8.75/kg) Better at Sobeys but No Frills claims to price match so take in a Sobeys flier and they should give you the $2.99/lb price.
nothing amazingly special
Nothing amazingly special
Additional Flyers
Gateway Meat Market 667 Main St. Dartmouth