There's an immense satisfaction when something homemade turns out well and puts a smile on your face.  It gives that boost in confidence and lets you know you can tackle the next project on a high note.  We love grainy mustard almost as much as we do Dijon.  In the past 20 years, I have made a conscience effort to read food labels, understand what's inside, and make an informed decision as a result.  So when I got it into my head to make my own mustard, I was surprised to see additives such as fruit pectin, citric acid, tartaric acid in Dijon mustard and lactic acid and flavour (no mention of what the flavour is) in grainy mustard.  Oops!  Did I forget to read the labels on these mustards?  Or did I think the additive list wasn't too long?  It's not as if we consume mustard on a daily basis.  Moral of the story; read the blinkin' label!
This mustard is so delicious.  Try it on the usual suspects (sandwich, salad, meat) but also chuck it into dressings, lightly dress root veggies before roasting, add it to homemade bbq sauce, combine grainy mustard and mayo with lime or lemon juice (perfect dip for crudités).
1/4 cup yellow mustard seeds
1/4 cup brown mustard seeds
1 cup hard apple cider
1 teaspoon sea salt
2 tablespoons brown sugar
lime wedge
In a small bowl add seeds and pour in hard apple cider. Cover and stand overnight at room temperature; I let it stand two days.
Pour contents into a food processor, squeeze lime wedge over seeds, add brown sugar, and purée to desired consistency. Transfer to an airtight container. Refrigerate 24 hours before using.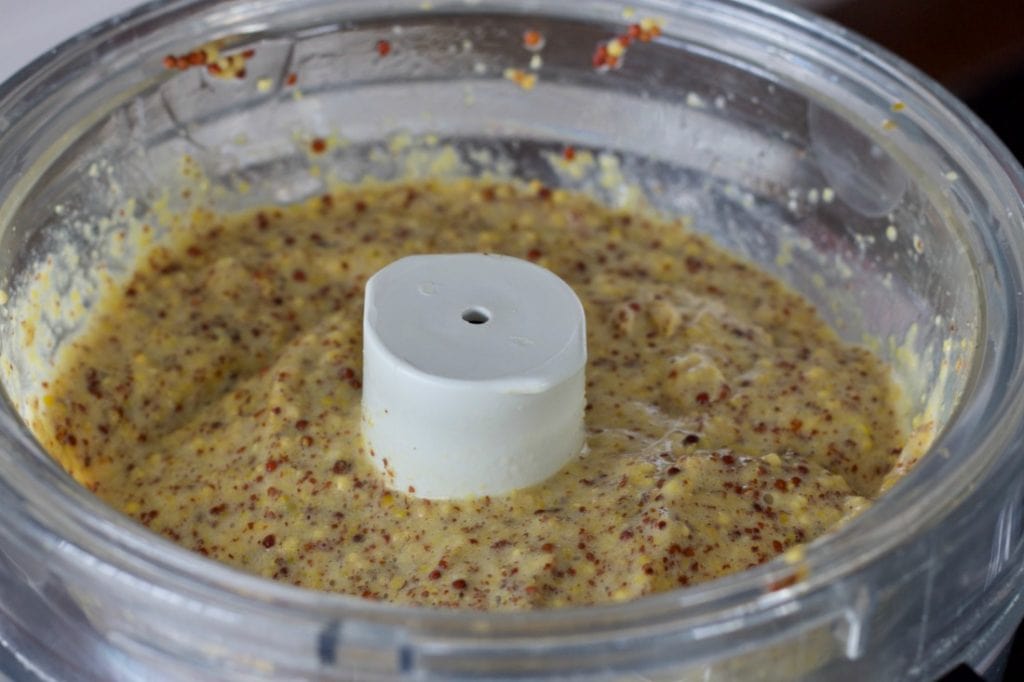 The Culinary Chase's Note: You can substitute apple cider with chardonnay (1/2 cup wine with 1/2 cup water), 1 cup white balsamic vinegar, or 1 cup of beer.  For a spicier result, leave the jar of mustard at room temperature 1-2 days before refrigeration.  This allows it to ripen.  Mustard will keep up to one month in the fridge.  Enjoy!