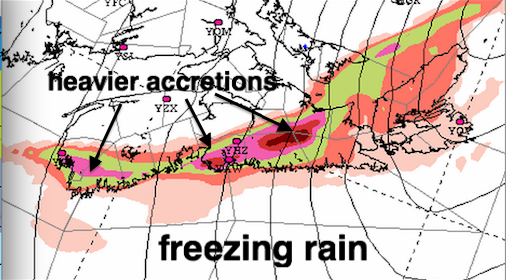 With Winter Storm, Rainfall, and Flash Freeze Warnings in effect for Halifax, it seems we have to be prepared for anything.  As I have suggested in earlier posts, storms tracking along the Atlantic Coast are tricky to forecast, since one change in wind direction over only a few km can create substantially different outcomes.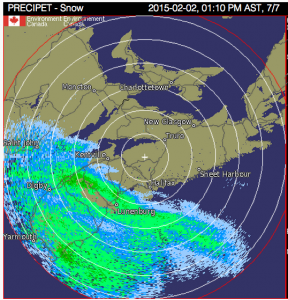 The 1pm radar image confirms that by 3pm snow will be covering Halifax.  It will be changing to freezing rain and or ice pellets in the latter half of the evening.  However, while it is forecast to change to rain, there is a lot of cold air over the region.  Haligonians would be advised to prepare for the possibility of extended periods of freezing rain overnight as well, especially away from the Atlantic Coast.
The precipitation chart below shows how tough the forecast is.  There may be several types and varying amounts of precipitation in a short distance as you move inland.  The freezing rain threat is serious and could be very hazardous for travel and power outages.

Sydney and other parts of eastern and southwestern NS will also be challenged with this threat.
Stay safe and stay tuned to updated Environment Canada Warnings.