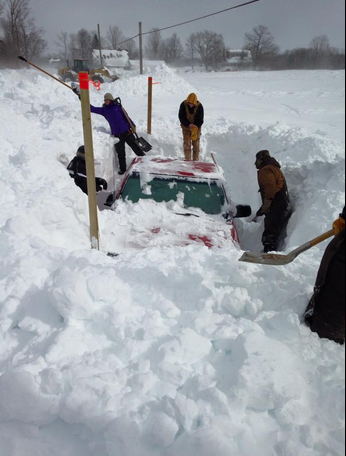 Now that there is adequate snow (and ice), there is a heightened concern with any additional snow.  Rainfall is also a concern, as it adds to weight of heavy snow, and makes ice covered surfaces treacherous.
There are a few systems to watch over the next week:
Now that we are within 24 hours of tonight's system, there is consensus and confidence that it will just clip the Atlantic Coast of Nova Scotia with a dusting of snow (1-2cm).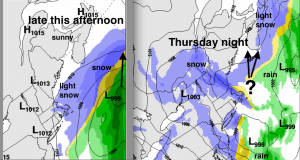 Thursday night is more challenging, as a bunch of weak systems combine into one over the Gulf of Maine, then passes across the Maritimes.  Since the track of this system is uncertain, there is no point sharing details on snowfall amounts.  In fact, the new low may pass close enough to Halifax to change any snow to rain.
If we look at the ensemble of 40 models, there is consensus on about 10mm of precipitation for Halifax Thursday-Thursday night. (which if all snow, would be about 10cm).  However, there is no consensus on timing, and the temperature will get very close to melting.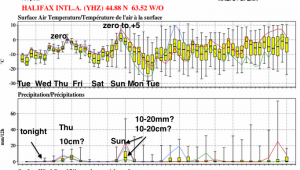 For Sunday, the ensemble has more variability (as there always more uncertainty 5 days ahead).  Max temperature forecasts range from zero to plus 5. Precipitation forecasts range from 10 to 20 mm (or 10-20cm if it's a snow event).
It's very useful for folks to realize there is a range in possibilities for the upcoming weather systems.  Therefore, for any forecast, it's better to prepare for the potential impacts associated with this range of uncertainty.
Stay safe