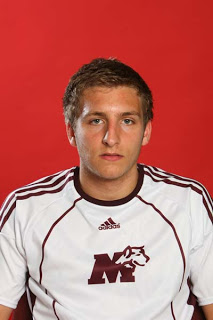 Second Team AUS Keeper Adam Miller and the Huskies are primed for a championship run this weekend in Moncton.
This season has been far better for the Huskies than last. The Huskies have posted a record of 8-2-3. That record was enough to earn them 2nd place in the AUS. The AUS playoffs are set up so that the top 6 teams make it into the next round. The top 2 teams, which this season are St. Fx and SMU receive a bye into the next round.
The Huskies have a solid team this year as they have managed to score 28 goals. This is mainly due to the emergence of Jhonattan Cordoba.
Cordoba has managed to net 9 goals this year all being crucial in their wins. His elusive speed makes it difficult for defenders to mark him, and his consistent play makes him a nomination for the AUS player of the year.
They also have managed to get other players to step up and score, a major problem last year as they had only one main scorer. This season Elvir Gigolaj (6), Shawn Kodejs (4), Peter Garonis(2), Shane Rajaraman(2), Nils Webber(2), and Ian Coke(2) have all managed to score.
The emergence of second team AUS All Star Adam Miller has given a lot of security for the Huskies on the back end. Miller only gave up 9 goals in 13 games this season.
There are a few players who have been consistent performers as the starting line-up game in and game has been remarkably steady. 10 players have played or started in 10 of the games this season, and 5 of those players have played and started every game. That kind of consistency in the line-up has been one of the keys to the success of the team.
Based on how quarter final Friday in Moncton plays out, the Huskies could possibly face Dalhousie, Cape Breton, or UNB. More than likey, it will be the third seeded Tigers.
This year Dal has played SMU twice and both games were very different. In their first encounter at Huskies stadium, the Huskies beat the Tigers down. The score was 6-1 for the Huskies. Cordoba had picked apart the Dal defence as they were not ready for his skill and speed. A very shaky Dal defence with injuries did not help, and their lack of ability to shut down a faster Huskies team showed.
The second meeting between the teams was a more gritty game. The Tigers took the rematch 2-0. Dalhousie came out with a plan to shut down Cordoba as Nathan Rodgers shadowed the elusive striker all night and did a good job. SMU and Cordoba were held off the score sheet and ended up losing the game. Dal just used Ben Ur and the wind in the second half to just keep pounding the ball deep and it finally opened up.
If they are to play again for a 3rd time, it is sure to be an excellent game as it will be for all the marbles. SMU is undefeated in the last 5 games going (3-0-2). Dalhousie is undefeated in the last 5 games as well (3-0-2). This Dal team in the last 9 games has gone (5-1-3) with their only loss coming against long throwins against St. Fx. With Dal finding its stride now and Tyler Lewars on the score sheet this could be a tough match.
SMU will have to rely on Cordoba to take a lot of pressure and open up other areas on the field for other players. Dal did lose Nathan Rodgers to injury and it will be interesting to see how they manage without him. I think that this game will go to extra time as both teams have the ability to score and defend very well.
If the Huskies do beat the Tigers they will more than likely play Cape Breton or St. Fx. If they play either of these teams they will be in for a very tough game as both of these teams have given SMU a tough time this year.
Regardless of whether it's vs. the Tigers, Capers, or X-Men, the road to AUS Championship glory will be difficult this weekend in Moncton for the Huskies.
Armaan Ahluwalia is a journalism student at Dalhousie and a writer with the Dal Gazette. Follow Armaan on twitter @therealbrindian and check out his blog,
www.1inthestands.wordpress.com
.