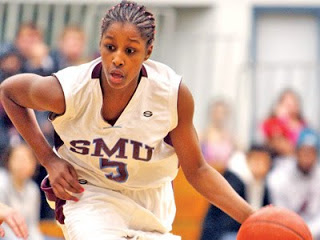 Justine Colley averaged 21 points per game in her rookie season for the Huskies

After coming one game away from a conference championship in 2009, Scott Munro's Saint Mary's Huskies are reloaded and ready for another potential run at glory.
Fans and AUS basketball pundits will get an idea just how good this Huskies team is on Thursday night, when they play host to the nationally ranked Acadia Axewomen at the Tower on
www.live.haligonia.ca
.
Gone is five year starter Kelsey Daley, replaced by former AUS all star and UPEI Panther, Susanne Canvin. Graduated is the ever solid Laure Pitfield, but on campus is three time AUS champion Maegan Seaward, formerly of the Memorial Seahawks.
Super sophomore Justine Colley of North Preston is back after one of the greatest rookie seasons in AUS women's basketball history. Colley teamed up with Daley to form the conference's most exciting backcourt and nearly led the Huskies to an AUS championship.
The only question around the Tower is this; what does Colley do for an encore?
In a conference that has become one of the best in the country, the Huskies will need all the Colley they can possibly get if they are to steal a banner from the grips of traditional powers Cape Breton, Memorial, and Dalhousie, and rejuvenated programs like Saint Francis Xavier and the Axewomen.
Meet the Acadia Axewomen

2009/10 Record: 7-13, 22 points. Finished in sixth place and lost 64-63 to SMU in quarter finals.
Head Coach– Bev Greenlaw, 3rd season.
Key Losses: Alise Brown; Keisha Brown. One of the major storylines last year in the AUS was this sister combo taking Wolfville by storm, coming one point shy of leading the Axewomen to their first AUS semi final seemingly in a generation. Alise graduated, Keisha transferred to Dalhousie.
Key Additions: #9 Kristy Moore; #10 Ariel Smith. Rookies have been impressive in pre-season.
Players to Watch
#12 Emma Duinker– Averaged 15 ppg in pre-season
#11 Abby Duinker– Averaged 10 ppg and 7 rpg in pre-season
#7 Stephanie Chapman– Water bug point guard averaged 9 ppg in pre-season and is a feisty defender
Interesting Factoids
: Coming in at number 10, the Axewomen are one of three AUS teams in the CIS top ten for November 2nd. UNB is ranked fifth and Cape Breton ninth. Acadia has not won an AUS championship since 1952.
Huskies Notes

The Huskies lost their last five games in preseason play. SMU was without the services of several year players….Scott Munro is entering his third year as Head Coach…..in 2009 Justine Colley was the biggest recruit for the Huskies since Alise Brown and she did not disappoint. Colley averaged 21 ppg during the regular season and 25 ppg at the AUS championships, including a 38 point outburst vs. Memorial…. former AUS all star Susanne Canvin is the Huskies headline recruit this year. Canvin averaged 15 ppg in her last two seasons at UPEI…Fifth year senior Maegan Seaward brings a great deal of pedigree to the Huskies. Seaward won three AUS championships at Memorial University and averaged 10 ppg her last two seasons….the Huskies have not won an AUS championship since 1976.….the Huskies lost to the Cape Breton Capers 69-60 in last year's championship game.….Kelsey Daley's sister, Robbi, is back for her second season. Daley averaged nearly 7 ppg in her rookie campaign….workhorse Lia Milito has graduated. Milito was a key defender in the post last season for the Huskies and was known for her scrappy, physical play.
Game time from the Tower is Thursday at 6:00 and can be seen on
www.live.haligonia.ca
. Mavs Gillis and Bill McLean will have the call.

Questions or comments? Email us at sports@haligonia.ca. Follow us on twitter @haligoniasports.