My maternal grandmother had an annual tradition of making Tiganithes ( fried bread twists,) on the day before Christmas.
It's a day long affair and by the end of it, you smell of deep fried oil and your clothes are spattered and you feel completely and utterly shattered.
And it's a two person job. You need someone to roll the dough and someone to drop it in the hot oil and coil it around with two forks so that this knotted, twisty shape forms. The outside is crispy and golden, and the inside is fragrant and dense. Our favorite way to eat them is with a small slab of hard, pungent cheese. That particular combination is absolute perfection.
When I was little, I would visit my grandmother the day before Christmas and she'd always answer the door with her hair tied up in a colorful handkerchief. She had pails and pails of rising dough and she would work diligently trying to finish batch after batch in time for Christmas morning. I always noticed her thin gold wedding band twirling and shifting as she kneaded her mixture and by the end, it was full of sticky dough remnants. After she was finished, she'd fill the sink with hot, soapy water and wash her hands, making sure her ring was sparkly and new again. I'll always remember the way she'd pause periodically, take a deep breath, look at me and start singing Greek Christmas carols. And truly, when I close my eyes and think of her, I can hear her beautiful singing voice and see her wide, expressive smile.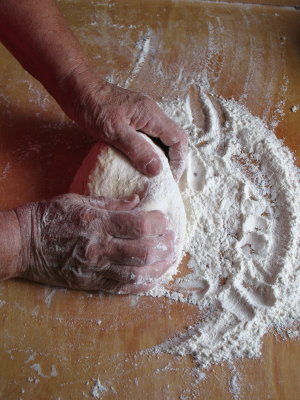 "The secret ingredient," she'd say, " is fresh orange juice. But it has to be fresh. And only a small bit."
I always believed she was right. That it was the addition of fresh orange that made her tiganithes so beautifully unique. But it wasn't until after she died that I realized the secret…was actually HER. It was her petite yet strong hands. The way she kneaded and rolled. The way she sang and smiled and told stories in the middle of it all. My grandmothers tiganithes were so perfect because she made them with so much love and attention and pride. And ever since she died, they've never tasted quite the same for me.
Food has this natural way of connecting us. Of continuing the story. Of replaying the song. It unites us in ways most other things can't. In that beautifully familiar way that captures our attention and allows us to recall moments and conversations. It's those little morsels that make a memory come to life. The gold wedding band. The colorful handkerchief. The joyful singing. The sweet, captivating stories. And it's all so vivid that you can almost hear it and see it and touch it.
For me, Christmas is a spiritual re-birth. And no Christmas breakfast will ever be complete without my grandmother's tiganithes and all the beautiful moments they allow me to re-live.
Of course, you're expecting the recipe right now. Obviously. That would make perfect sense.
But sadly, I don't have any photos to share as we haven't made them yet this year and I can't bring myself to post my grandmother's famous recipe without a visual aid. So instead, in her honor, I'm sharing a recipe for baked orzo. One of her favorite dishes on earth was pasta. As long as she had copious amount of cheese to accompany the dish, she wasn't particularly fussy on the kind. If we ate this together, I imagine she would have placed a large bowl of freshly grated cheese and homemade bread on the table. It would have been set with pretty paper napkins folded in triangles and she would have told stories about her childhood to keep me engaged long enough to finish my entire plate.
(Grandmother tactics, you see.)
Baked Orzo with roasted cauliflower, red pepper + parmesan
4 cups cooked orzo
1 red pepper, chopped
1 head of cauliflower, separated into florets
4 shallots, quartered
3 cloves of garlic, sliced thin
¼ C olive oil
small palmful fresh parsely
¼ C freshly grated parmesan.
3 T fresh lemon juice
salt and pepper to taste
Boil orzo according to package instructions and set aside.
Meanwhile, roast the cauliflower, shallots, garlic and red pepper with olive oil ( 350 for about 20 minutes or until the cauliflower has browned and the red pepper has blistered slightly.)
Add the cooked orzo to the pan. Season with salt and pepper, lemon and parsley and return to the oven for another 10 minutes. Remove from oven and add the parmesan. Serve immediately.
Nicholetta Bokolas is the author of the food blog Pepper + Paint. She is a wife, mother and lover of all things fresh and local. She believes good food is meant to be shared and loves coming up with unique recipes that feed both the body and the soul. You can follow Pepper and Paint on facebook and twitter.