Hello friends! If you're a regular reader of the blog, you might remember that I've participated for several years in "Big Day Downtown". It's a fun campaign put on by the Downtown Halifax Business Commission, where they give a bunch of local bloggers a Visa card and set us loose on downtown Halifax.
This year had a fun twist. The launch party was held a Noble, a basement bar underneath the Middle Spoon that requires a password for entrance. It had a very cool vibe, like a secret library that might also lead to the Batcave or something.
At the party, each blogger got to select three cards from a bowl. The adjectives on the cards acted as a guide for our "Big Days"! I got: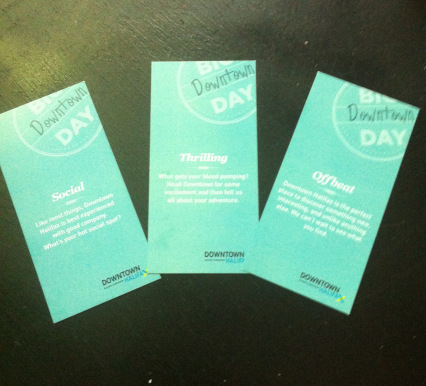 Social, thrilling and offbeat – a recipe for a GREAT day downtown! Armed with a $150 gift card, I was off!
Part One: Offbeat and Thrilling
I decide to combine "Offbeat" and "Thrilling" into one giant experience that will last me all through the fall – a 10 week hula hoop class at Serpentine Studios!
Over the past year, I've slowly been making more time in my life for fitness. After all, there is a difference between "TV lover" and "couch potato" and I am the former. For me, becoming more active was all about finding fun activities – I'm not a big fan of the gym. Playing recreational badminton, doing yoga once or twice a week, and going for the occasional run has been a great combination. And then I discovered Serpentine Studios.
This summer, I enrolled in two five-week sessions of "Playground Workout", and it was incredibly fun. Led by the super-fit and dynamic Monique, the class incorporated everything from pairs balancing poses to bootcamp style relay races to the recess games of your youth, like freeze tag. I've never had so much fun working up a sweat!
The classes at Serpentine are definitely offbeat, and trying something new is always thrilling. I had so much fun using hula hoops during Playground Workout that I decided to take some of my Big Day Downtown money and sign up for the fall Hula Hoop session!
Serpentine offers lots of classes – bellydance, yoga, boot camp and more.
Part Two: Social
For the second part of my Big Day Downtown, I went in the opposite direction of my first purchase. Food and wine! After all, these Hula Hoop classes are supposed to be burning 400-600 calories per session.
My "Big Day Downtown" was well-timed. I'm getting married in a little over a month (!!!) and it just so happens that my bachelorette party was taking place, of course, in downtown Halifax. Clearly, my bachelorette party was not going to involve strippers – I am a girl who briefly considered including a mystery novel recommendation for the "thrilling" portion of this blog post. (The Cuckoo's Calling, written by J.K. Rowling under a pseudonym. I really enjoyed it.) So, like I said – it was all about food and wine.
My morning began with a hair appointment at Spirit Spa, as I decided to ditch my summery ombre locks and return to my natural dark brown hair color before my wedding. Full disclosure: I did not use any of my Big Day Downtown gift card at the spa. I just want to give Ashlee a plug for always doing a fantastic job on my hair. Afterwards, I had a coffee on the Halifax waterfront as I waited for my friend to arrive on the ferry. It was gorgeous out.
I spent the afternoon with some of my favorite girlfriends, before we all met up with my fiance and more pals for dinner and a party. The theme of the afternoon? A downtown wine crawl. It doesn't get more social than spending a few hours with my favorite people at three of my favorite downtown establishments!
(I'd say we poured one out for pals @hellopineapples and @lifeofmytime, but we don't waste wine.)
Stop One: Bistro le Coq
First on the tour was Bistro le Coq, a French restaurant on Argyle Street. I love their champagne cocktails and pommes frites, so it was a necessary stop on the wine crawl. We sat outside, and it was a beautiful day. While we were there, we saw the team of doctors from The Amazing Race Canada walk by! Look, they tweeted me about it later. Everyone loves Halifax!
Stop Two – Pipa
Next we moved down Argyle Street to Pipa, a cute Brazilian and Portuguese restaurant that's home to my favorite sangria in Halifax. Again, we sat outside. You've got to love patio season in Halifax! I have to add, every time I go to Pipa I've had the same server and he is just the loveliest. I highly recommend giving this place a try if you've never been.
Stop Three: Obladee Wine Bar
Obladee, on Barrington Street, is one of my favorite places in the city. It's my ideal night out – a relaxed, cool bar with amazing wine selections, the best staff in the city and cheese boards. I don't need Chippendales for a bachelorette, guys, I just need a cute server who can correctly pronounce whatever I'm attempting to order. At Obladee we grabbed a couple of cheese boards to tide us over until dinner. I highly recommend ignoring the menu and having your server surprise you with the cheese selections. They really know their stuff, and I've never been disappointed!
After Obladee, we moved on to meet up with my fiance, the pals he'd been playing paintball with (MY party didn't leave me with giant welts and bruises, so I think we all know who had the better time…), and some more mutual friends for a lovely evening of dinner, pool, darts, and general fun. It couldn't have been a better time.
Thanks so much to the Downtown Halifax Business Commission for once again including me! I love my city, and sure had an offbeat, thrilling and social day. Follow #BigDayDowntown on Twitter to join in the fun!