It seems gel liner pencils are the new black these days, with their ease of application, soft texture and long lasting power.
I have thoroughly enjoyed Avon SuperShock gel eye liner pencils, so I thought I should check out LA Girl Glide gel liners when I found them on clearance at Lawtons.
Squirt helped me pick out a few colours, I didn't realize we did not chose a single light or nude shades lol.
Here are, from L-R: Black Magic, Black Amethyst, Paradise Purple, Gypsy Teal, Royal Blue and Aquatic.
Check out the swatches on my hand with only 2 swipes each.
Black Magic and Black Amethyst have subtle shimmers that are not that visible on the eyes. Black Amethyst has a light purple sheen while Black Magic has a matte base.
Paradise Purple has that blue purple duochrome look that I always enjoy.
Gypsy Teal has the best pigmentation among the 5 shimmer shades, just a tad more blue than Avon Super Shock in Aqua Pop, and Royal Blue is a medium sky blue, not as deep as Avon Cobalt.
Aquatic is the only matte shade in the bunch but it the prettiest one. I have got pretty obsessed using it on the lower lash line since I got it.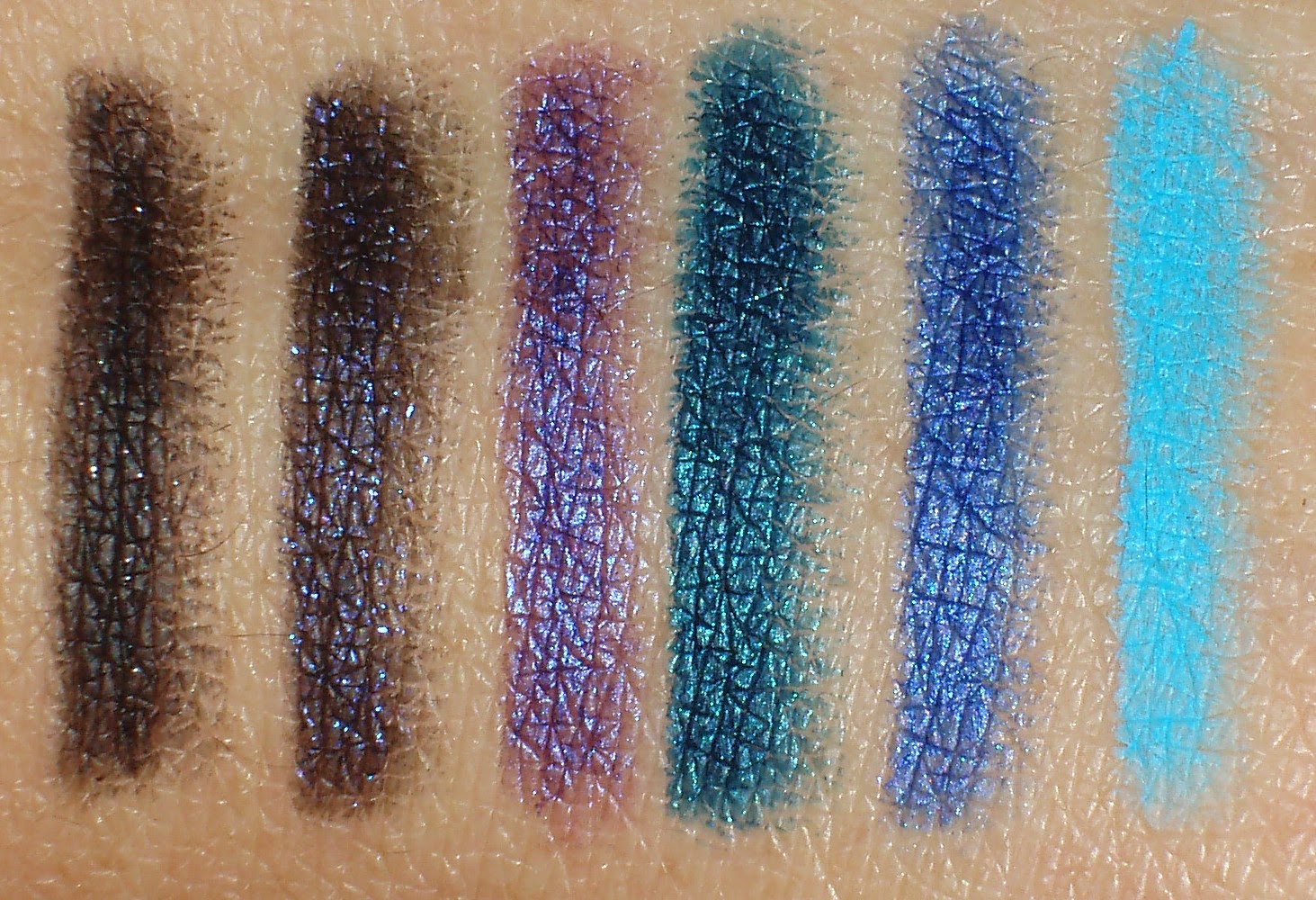 On the eyes, these Glide gel liners feel a little harder than the Avon Super Shocks (but do not pull or tug the eyes) and last equally as long.
I love both brands equally too, but LA Girls does have a wider range of colours (including mattes, 19 vs. 5 from Avon), plus lower price tag (reg. $3.99 at Lawtons or $5 on LA Girl website vs. $10 from Avon, same size 1.2g), so I have to say Glide gel liners win here
Give these a swatch if you ever come across them. Even if you are not a fan of bold colours, there are basic shades in the range too.