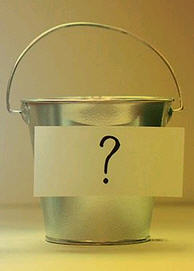 Do you have a bucket list? I've never really made one. I think I have a hard time making concrete goals when I know they're going to be hard, if not impossible, to achieve.
Plus, as a 28 year old with young children, I don't particularly want to think about death or the aspects of life that I'm missing. There is a lot that I had to give up having kids – but I gained as much, if not more back. Would I be disappointed if I died tomorrow? Yes, but not because of what I haven't accomplished. I'd be heartbroken because of what I would miss in the lives of my children, and the turmoil that they would face going forward without me.
Still, there are those things – those small little what-if things sitting in the back of my mind, just slightly out of grasp from the realm of possibilities. Are those things my "bucket list"? Are they my faraway reality dreams? I have been reminded more than once that those things that seem far out of grasp can become a reality, and when they do, they feel even better knowing they were once a far-away goal.
So what is on that list for me? That Life is Good but it Would Be Nice to Get a Few More Things In List?
Well, I'd like to go away alone with my husband somewhere far away, sooner rather than later.
I'd like to take the kids to Disney World when they're old enough to enjoy it, but not too old to miss the magic. (And maybe I'll run another race while there).
I want to go to a blogging conference and I would love to hang out with every single member of my online tribe, whether at the conference or somewhere altogether different.
I have a few career aspirations, too.
Would I like to go skydiving someday? Absolutely! Go on a multi-day kayaking trip? Yes! Visit cultural landmarks around the world? Without a doubt! Hike the grand-canyon? Visit alll the provinces, territories, and states I haven't yet been to? Run a marathon? All these things could be on some far-reaching "bucket list", but those won't determine whether this life I am living now is great or not.
The things that I really want are things that will bring me closer to my loved ones. They're things that will create meaningful memories during the life I'm currently living. This wish list is built on top of my passions.
But still, so many of these list-items, even the simple ones, take time, energy, and money to accomplish. My husband and I were saving up for that trip we wanted to take together, but we used the money to buy a house. The problem with "Someday List" items are that they're far enough away to not seem real, until the time slips away and you realize that you never did that thing you wanted to do all along because you never prepared for it.
I know there are tips and tricks to save a little bit of money here and there for those big list items. So many people these days are cutting cable in favour of online streaming. We've done it. Or maybe forgoing a morning coffee for a homemade brew could save a couple of bucks a day? Did you know that you can even shop around for insurance to see if you can shave a few dollars off your monthly bills? Consider putting away some of this saved money so that these "bucket list" (or whatever we're calling it) items are within reach. How much money can you put aside each month?
I think it is completely reasonable to put a savings line item on each month's budget. We've definitely done that in the past, and while it may not have ended up in a romantic getaway for my husband and I, it certainly did help up with other financial and personal goals. If you need help making a budget and finding places to cut and save, here's a great budget spreadsheet to help get you started. Going through something like this can be painful, but once you realize that doing so will help make your dreams a reality, it gets a little more exciting.
What's on your list? What do you want to cross off first? What are some of your best money-saving, goal-reaching tips?
At SunTrust Bank their purpose is lighting the way to financial well being. They help you get organized, make a plan, and stay on track so you can get and stay in control of your finances. When you are confident about your money, you can save for your goals and splurge knowingly on what matters most to you.
To get started visit  suntrust.com/getorganized
This is a sponsored conversation written by me on behalf of SunTrust Bank. The opinions and text are all mine.

The post Life is Good but it Would Be Nice to Get a Few More Things In List appeared first on Mommy Miracles.