For those times when perhaps a novel is too much and a short story isn't quite enough, I offer up a wide range of novellas for your consideration.
Murder at Indian Harbour (M)
by Janet A. Couper


"When a murder is committed in a local pub, a complex tangle of family secrets unravels as Detective Eli Connors investigates the crime. The year is 2011. The place is Indian Harbour, a small fishing village located at the mouth of St Margaret's Bay. The story begins during a strong March nor'easter causing lobster fishing to shut down. After securing their boats local fishermen crowd into Pat Murphy's Pub for warmth, a beer and weather updates. Among the last to enter is a disheveled man who takes a seat at the end of the bar." – publisher

A Wreath of Snow : a Victorian Christmas novella (M)
by Liz Curtis Higgs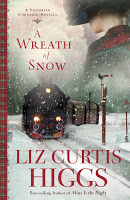 "All Margaret Campbell wants for Christmas is a safe journey home. When her plans for a festive holiday with her family in Stirling crumble beneath the weight of her brother's bitterness, the young schoolteacher wants nothing more than to return to the students she loves and the town house she calls home. Then an unexpected detour places her in the path of Gordon Shaw, a handsome newspaperman from Glasgow, who struggles under a burden of remorse and shame. When the secret of their shared history is revealed, will it leave them tangled in a knot of regret? Or might their past hold the threads that will bind their future together? As warm as a woolen scarf on a cold winter's eve, 'A Wreath of Snow' is a tender story of love and forgiveness, wrapped in a celebration of all things Scottish, all things Victorian, and, especially, all things Christmas." -publisher

Against God (M)
by Patrick Senécal ; translated by Susan Ouriou and Christelle Morelli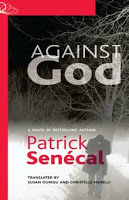 "Against God is the gripping, dark tale of a man searching for answers. What happens in the mind of a man when, all of a sudden, he loses all reason for living? When everything in his life collapses around him and he is left with nothing, wondering why fate has been so scornfully unremitting? This novella is a riveting one-sentence narrative, from one of the most beloved and read writers in Quebéc . Against God impales the reader to the page while asking: What stops a man from becoming monstrous when morality is no longer an issue" – publisher
The Sea Witch (M)
by Stephen Coonts
"The Sea Witch is a collection of short fiction which was first published in anthologies from 1999 to 2003.
The first story, a novella, which gives its title to the collection, is the story of a Black Cat squadron in the western Pacific in the desperate days of 1943. Flying PBY Catalinas painted flat black, the squadrons ranged the night oceans hunting Japanese shipping, which they attacked.
The second story, The 17th Day, is a World War I flying story that was first published in 1999 in a collection edited by the late Martin Greenberg entitled First To Fight. Only the most hard-core Stephen Coonts fans have read this one.
The third story, a novella, is entitled al-Jihad, which means, the Jihad or holy war. You will be amazed to discover who is fighting the holy war in this tale of murder, terrorism and revenge." -publisher
Royal Bridesmaids : an original anthology (M)
by Stephanie Laurens, Gaelen Foley, and Loretta Chase.
"In this original anthology, New York Times bestselling authors, Stephanie Laurens, Gaelen Foley, Loretta Chase tell us what it really takes to get the bride to the royal altar. They need to do more than "smile, wave, and look delighted.
A Return Engagement: Lady Nell Daughtry has her hands full getting her reluctant bride sister safely married to the Prince of Lautenberg. Then she learns she's paired with Robert Knightley… the fiancé who walked away.
The Imposter: Lady Minerva must ensure her country's princess is wed to handsome Prince Tor. Then the bride bolts, and bridesmaid becomes — bride!
Lord Lovedon's Duel: When Chloe Sharp hears the handsome Earl of Lovedon say her sister's royal marriage is a match made in money, she challenges him to a duel –for love and honor." -publisher.