This Spring, Quo by Orly has 17 exciting new shades (permanent and LE)I, arriving in a brand new (and huge) floor display at Shoppers.
Here are the 5 new shades to add to Quo's core line. They will join the regular wall shelf when the special display is gone. Yes, I know where your eyes are drawn to, see my haul below for better looks at a few of them
Click the pic (as usual) to enlarge.

Now pay close attention to the 12 Limited Edition shades below, as they won't be around forever. There are cream, glitters, metallic finishes, light and dark colours, a bit for everyone.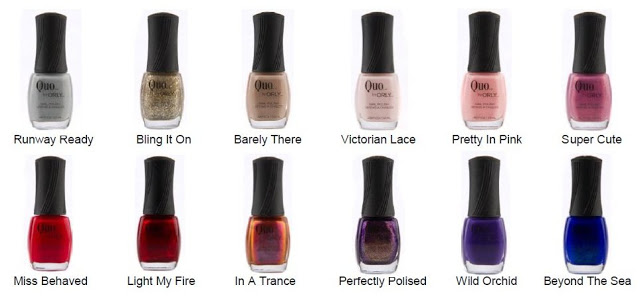 Below is part of my BOGO 3-hour sale haul from Shoppers more than a week ago.
First row, from L-R: Wild Child (permanent) and Perfectly Polished (LE).
Wild Child is a black with random glitters in different colours and sizes. Perfectly Polished looks duochrome/ metallic, quite complicated. I'll know more when I swatch them.
Second row: Beyond the Sea (LE), Prepster (permanent) and Super Cute (LE).
These all have gorgeous shimmers in the same colour family as the base but a tad darker or lighter. Please enlarge the pic to see the shimmers better.
Quo by Orly nail polish retails $10 each, all these new shades are on special B2G1F until the end of February. Keep an eye on those LE colours since there are only 4 bottles of each. I'll have swatches of the ones I have soon.
Source: http://sparkledbeauty.blogspot.com/2013/02/quo-by-orly-spring-2013.html