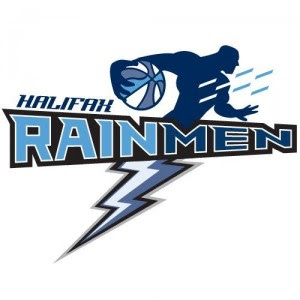 by Joel MacDougall
It was a great atmosphere at the Metro Centre Sunday afternoon as the Halifax Rainmen hosted the Vermont Frost Heaves to open the PBL season. It was a close game with some good back and forth action, but in the end it was a couple of familiar faces that led the Rainmen to the win.
The Frost Heaves jumped out to an early lead thanks in large part to the strong guard play from Dwane Rice and Joe Jones. Rice's quickness and ability to penetrate seemed to create some open looks for his teammates as the Rainmen got their defensive feet under themselves.
The momentum began to shift with a steal by Des "Moneyball" Ferguson on an in-bound pass that led to an old fashion three-point play.
New starting point guard Taliek Brown (14 pts, 11 asts) looked comfortable and settled the Rainmen into their offense before the first quarter was over. Eric "Air Canada" Crookshank, coming of the bench, allowed the team to push the ball up the floor and catch the Frost Heaves not getting back on defense. Despite coming off the bench, Crookshank led the team in scoring and rebounding going into the half with 15 points and seven boards staking the Rainmen to a 57-49 lead.
The second half saw another veteran Rainman take over and maintain that lead. Des Ferguson caught fire from behind the arc, scoring 19 scoring of his game high 28 in the final two quarters. Ferguson finished the game going 7 for 9 from land of three.
The Rainmen seemed to have found a couple of solutions down low in Kavon Jones (12 pts, 12 rebs) and Josh Dollard (12 pts, 8 rebs). Big-body presence in the middle has been a concern for the Rainmen, but Sunday's game showed some promise. Both Dollard and Jones provided lots of energy and grit down low and kept several plays alive leading to second chance opportunities. the Rainmen managed to out-rebound the Frost Heaves 47-38.
The Rainmen next see action Thursday, as they travel to Quebec to take on the Kebs. They are back home next Sunday against Lawton-Fort Sill Cavalry.
Joel MacDougall is a sports writer and broadcaster living in Halifax. Follow him on twitter @jmdougall and check out his blog
www.route19.wordpress.com
.