As part of my job at Halifax Public Libraries I get to peruse a number of selection journals. One of my favourites is Mystery Scene: your guide to the best in mystery, crime and suspense. This journal is particularly strong in highlighting independent press releases and some of the lesser known awards.
For example, there is the Dilys Awards, which feature the books that the Independent Mystery Booksellers Association members most enjoyed selling during the previous year. I'm not quite sure how they measure bookseller enjoyment? but the titles they have selected for the 2011 shortlist are all quite intriguing:
Love Songs from a Shallow Grave
by Colin Cotterill
"Three young Laotian women have died of fencing sword wounds. Each of them had studied abroad in an Eastern bloc country. Before he can complete his investigation, Dr. Siri is lured to Cambodia by an all-expenses-paid trip. Accused of spying for the Vietnamese, he is imprisoned, beaten, and threatened with death. The Khmer Rouge is relentless, and it is touch and go for the dauntless, seventy-four-year-old national – and only – coroner of Laos" – Publisher
The Lock Artist
by Steve Hamilton
"Michael is no ordinary young man. Mute since a childhood tragedy, at age eighteen he discovers that he possesses a skill he would never have expected. Whether it's a locked door without a key, a padlock with no combination, or even an eight-hundred pound safe . . . he can open them all.
It's a talent that will make Michael a hot commodity with the wrong people, and whether he likes it or not, push him closer to a life of crime. Until one day, when he finally sees his chance to escape, and decides to risk everything to return home to the only person he ever loved, and to unlock the secret that has kept him silent for so long." – Publisher
Moonlight Mile
by Dennis Lehane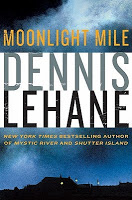 "In 1998's Gone, Baby, Gone, Boston PI Patrick Kenzie rescued a four-year-old kidnapping victim and returned the child to her neglectful mother over partner and lover Angela Gennaro's objections. That decision ended the couple's professional and romantic relationship, although they briefly reunited in Prayers for Rain…
…Now a freelance investigator for a white-shoe law firm, Patrick knows he was legally right but morally wrong in his actions years ago, but he and Angie, now married and raising a young daughter, don't discuss the Amanda McCready case. That is, until Amanda's aunt asks for Patrick's help in finding her missing (again) niece, who has grown into a brilliant but aloof 16-year-old. This time, he and Angie are determined to do the right thing by Amanda…" Library Journal
Bury Your Dead
by Louise Penny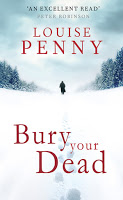 "An obsessive historian's quest for the remains of the founder of Quebec, Samuel de Champlain, ends in murder. Could a secret buried with Champlain for nearly 400 years be so dreadful that someone would kill to protect it? Although he is supposed to be on leave, Chief Inspector Gamache cannot walk away from a crime that threatens to ignite long-smoldering tensions between the English and the French. Meanwhile, he is receiving disquieting letters from the village of Three Pines, where beloved Bistro owner Olivier was recently convicted of murder." – Publisher
Once a Spy
by Keith Thomson
"Drummond Clark was once a spy of legendary proportion. Now Alzheimer's disease has taken its toll and he's just a confused old man. When Drummond's house is blown sky high while he was at the track, his son Charlie learns that his father's job as an appliance salesman was just a cover-up for an elaborate plan to sell would-be terrorists faulty nuclear detonators. Drummond's intricate knowledge of this device is dangerous to have rattling around in an addled brain. The CIA want to "contain" him – and so do some other shady characters who send Charlie and is father on a wild chase."
Savages
by Don Winslow
"Part-time environmentalist and philanthropist Ben and his ex-mercenary buddy Chon run a Laguna Beach-based marijuana operation, reaping significant profits from their loyal clientele. In the past when their turf was challenged, Chon took care of eliminating the threat. But now they may have come up against something that they can't handle-the Mexican Baja Cartel wants in, sending them the message that a "no" is unacceptable. When they refuse to back down, the cartel escalates its threat, kidnapping Ophelia, the boys' playmate and confidante. O's abduction sets off a dizzying array of ingenious negotiations and gripping plot twists that will captivate readers eager to learn the costs of freedom and the price of one amazing high. Following "the best summertime crime novel ever" (San Francisco Chronicle on The Dawn Patrol), bestselling author Winslow offers up a smash hit in the making. Savages is an ingenious combination of adrenaline-fueled suspense and true-crime reportage by a master thriller writer at the very top of his game"
Source: http://www.thereader.ca/2011/03/six-intriguing-mystery-suspense-titles.html