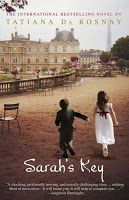 The story of Sarah's Key (M) opens with a loud bang on the door of a Parisian home in 1942. The homeowners are a Jewish family with two parents, a 10 year old daughter named Sarah and a young boy. The French police have arrived and the family is to be rounded up and taken to a stadium known as the Velodrome d'Hiver. The family doesn`t know what awaits them. At the centre of the story is Sarah, the key she carries with her, and the sad sight of the French police rounding up their own people on behalf of the Nazi occupiers.
This gripping story unfolds as American reporter Julia Jarmond begins writing a news story on the 60th anniversary of the "Vel d'Hiv" roundup of French Jews in Paris. Her connection to the story is coincidental as she finds herself and her French husband and daughter living in the apartment once owned by Sarah's family. Chapter by chapter we go from the present and Julia's story to the past where we discover what happened to Sarah, her family, and the little brother locked in the cupboard with the precious key. It is at times a difficult story to read but one that will not leave you disappointed.
The book has also been made into a feature film starring Kristin Scott Thomas and Aidan Quinn and will not disappoint fans of the book.
Like every good story, my blog entry has a twist. Having loved Sarah's Key I went looking for more titles by Tatiana de Rosnay. Here is where I confess I've been let down. I couldn't put down Sarah's Key but her two most recent books have left me disappointed and feeling a bit like I was reading for homework.
This is the description that got me hooked on A Secret Kept (M):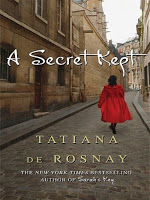 Frenchman Antoine Rey wants to do something special for his sister Melanie on her fortieth birthday, so he surprises her with a weekend trip to Noirmoutier Island, where the two spent many idyllic childhood summers until their mother's untimely death. While the weekend itself goes well, on the drive back home to Paris, Melanie is overpowered by a memory of her mother and drives off the road. She suffers extensive injuries, and as she heals in the hospital, Antoine obsesses over just what it was that his sister recalled. He is determined to find answers, but where and how?– Booklist
Everything said in there is true. There is a secret and from reading the description you would think there was something explosive hidden away. While I can appreciate that the secret may have been a big deal in another time and place, by today`s standards it`s not much of a big deal. Nor is it likely one in the France of today. However, what let me down most was the extra baggage of Antoine`s family and the death of a young girl, none of which contribute to the unveiling of the secret. At times, `get to "the point" was all I could think of.

The de Rosnay third title I`m trying is The House I Loved (M). It is a short book, about 200 pages. Why am I having so much trouble finishing it? It is initially a sweet and gentle story about a woman who has a lovely marriage and two children and loses both her husband and son. Those are tragedies for anyone to bear but the sadness and despair Rose must have felt don`t come through. The anguish she must have felt is retold in a letter that truly does not begin to capture the emotion this woman must have experienced. I don`t know where the emotion of Sarah`s Key is but it certainly isn`t present for me on these pages. I found this review in our catalogue and while I don`t always agree with reviews, this one hits it bang on for me:
"Parisian Rose Bazelet is a woman in mourning, for her husband and son, both long dead; for her distant daughter; and because of Napoleon III's ambitious urban planning agenda in the mid-19th century, an enormous project that could destroy her beloved family estate. With the planners already leveling nearby houses, Rose hides in her cellar and writes letters to her deceased husband about her struggle to save their home. As the letters continue, and destruction grows near, Rose remembers her married life. With the planners "rattling about at the entrance" and taking her friend Alexandrine, who has come to rescue her, by surprise, Rose reveals to her late husband the dark secret she could never bring herself to tell him when he was alive. Though bestseller de Rosnay's epistolary narrative is slow to build, it's fraught with drama, as the Sarah's Key author aims to create an immersive experience in a hugely transformative period in Paris (see Paul La Farge's Haussmann, or the Distinction), when the city was torn between modernity and tradition. In Rose, one gets the clear sense of a woman losing her place in a changing world, but this isn't enough to make up for a weak narrative hung entirely on the eventual reveal of a long-buried secret." Publishers Weekly
So fellow readers tell me what you think? Am I out on this limb by myself or has anyone felt the same way about these books or others?
Louise
Source: http://www.thereader.ca/2012/04/staff-pick-sarahs-key-by-tatiana-de.html