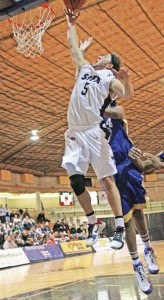 Second Team All Star Will Silver has been a rock this year for the inconsistent X-Men.
Seed at the Championships:
Third

First Game: Quarter Finals, Friday Night at 8:15 versus Sixth Seed Saint Mary's
Head Coach:
Steve Konchalski

Last AUS Championship: 2006
2010/11 Record: 15-5, 38 points.
Meet The X-Men
Key Players
Christian Upshaw – First team all star and AUS MVP in 2009 and 2010. Averaged 19 points, five assists, and 2 steals a game.
Will Silver – Second Team All star is one of the best defensive players in the country and is the player who really creates tempo for the X-Men. Had a 2:1 assist/turnover ratio in regular season and averages five rebounds a game from the point guard position.
Charlie Spurr – Fifth year senior and electrifying three point shooter averaged 12 points a games and shot 46 percent from beyond the arc. Has the ability to hit multiple three pointers in succession and in a short time period, often providing the impetus for an X-Men comeback.
Strengths
Christian Upshaw – Without a doubt the X-Factor of the tournament. Has seemed distracted at times this season and has had off court issues. However, if Upshaw is focused and ready for this weekend, he could easily be the most dominating player at the Metro Centre and propel the X-Men to run the table.
Full Court Game – No team in the AUS can create havoc with full and half court pressure like the X-Men. When they get it going it seems like they have six people on the floor.
Experience – The X-Men have four players in their fifth year including Silver and Upshaw who will be playing in their fifth AUS tournament and looking for their first AUS Championship.
Weaknesses
Injuries – X-Men are suffering from injuries to significant players heading in to Friday. Gone for the season is Alberto Rodriguez after suffering a sinus injury at Memorial. Fifth year senior Dwayne Johnson is battling a back injury, and solid bench player Chad Warren is day to day with an injury. There are rumours that even the super sophomore guard Jordan Clarke is battling an injury.
Chemistry – Hard to believe we're talking about this issue with the X-Men but the team just hasn't quite seemed themselves this season. There have been glimpses of that characteristic X-Men swagger and grit at times, specifically the Rod Shoveller championship on New Year's and their comeback win at the Tower versus SMU, but for most of the season the X-Men just haven't seemed all on the same page.
Christian Upshaw – Upshaw's bizarre mental absence from several games this season has been puzzling to fans and pundits. If Upshaw mentally checks out of a game this weekend and doesn't get involved, the X-Men won't have much of a chance against Dal or CBU, let alone SMU.
X-Men Notes

The X-Men place in the upper tier of 17 of 19 overall statistical categories. Their lowest placement is fifth (defensive rebounding and three point defence)……the X-Men have been nationally ranked all season long, many weeks ahead of CBU and Dalhousie despite trailing them in the AUS standings……….As incredible a back court as Upshaw and Silver have been throughout their five year careers, they still do not have an AUS Championship…..Jeremy Dunn averaged 13 points and five rebounds this season and has the best shot fake in the conference……First year sensation Terry Thomas ( 11ppg) has emerged as one of the most exciting players in the AUS with his dynamic athleticism. Expect a couple of highlight dunks this weekend from Thomas…..Sportstream would like to extend congratulations to Alberto Rodriguez for an outstanding career. The fifth year senior suffered a career ending injury at Memorial and will not be on the Metro Centre floor this weekend. Alberto was a consistent starter for the X-Men who you could pencil in for at least 10 points and 7 rebounds a game. His athleticism and speed at the center position created match up problems for coaches and havoc for opponents in the AUS….. The X-Men defeated SMU twice this season, 97-84 in Antigonish and 93-92 at the Tower…..St FX is 0-4 this season versus Dalhousie and Cape Breton.
Sportstream.ca is the official webcaster of the Subway AUS Men`s Basketball Championships. Follow us on twitter @_sportstream_.