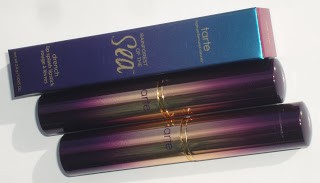 The Sephora-exclusive Rainforest of the Sea collection from tarte created a lot of buzz before it went live for VIBs and Rouges about a week and a half ago.
I was naturally drawn to the Drench Lip Splash lipsticks. Yes, that purple and gold ombre look is everything, and the claims of satin matte/ full coverage and hydration are icing on the cake.
I tried my best to limit myself to 2 shades from the opposite ends of the colour range – Cabana Boy and Wet Suit.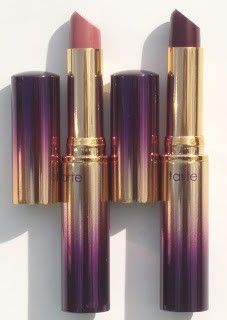 If the ombre colours have not made a beautiful and luxurious first impression already, the thin and long tube also does.
The metal packaging, however, could have been made a little thicker to create a nice weight on the hand. Part of that is probably because of the amount of product it houses too (see below).
With antioxidant complex and natural oils and butters in the formula, as you would expect, these lipsticks glide on and stay on effortlessly and feel almost like nothing. Very faint scent too.
An important note though, the bullets are very soft out of the tube! I almost swished the tip of Cabana Boy with the fist swipe, did not expect how creamy and soft it was. When you have to use a gentle hand with your Drench Lip Splash, application might not be as precise as you would like. So take your time!
Cabana Boy, described as a mauve, shows up more like a pink nude on me, great for work with a thin layer. Wet Suit, a plum berry, goes on a little patchy (as seen on the swatch) but evens out if I gently swipe my finger across the lips.
Staying power is not extraordinary but Wet Suit still leaves a lot of colour behind once it starts fading. And for that comfortable fell, I do not mind to touchup.
As mention, the thin tube format holds less product (0.085oz/ 2.4g) than regular lipstick shape (0.1oz – 0.15oz), so the $26 each is a little steep, I admit. The collection is available for everyone today online (and in store March 14), if you have something in mind.