The Lambda Literary Foundation is a great source of LGBT related reading suggestions. Each year they highlight the year's best related poetry, debut novels, romance, mystery, biography and so much more. Visit their website for a very comprehensive list of the best of LGBT literary works.
Here for your reading consideration are the shortlisted titles in the 2012 Lesbian Fiction category:
Six Metres of Pavement (M)
by Farzana Doctor
-The 2012 winner!

"I laughed and cried as I read Six Metres of Pavement and followed Ismail and Celia endearing, brave, and foolish characters who have to live with the irreparable and irreversible. Farzana Doctor blends cross-cultural empathy with wisdom, and shows us paths to wholeness. Read this delightful, warm guide to remaking and choosing your family." – Shauna Singh Baldwin
"Ismail Boxwala made the worst mistake of his life one summer morning twenty years ago: he forgot his baby daughter in the back seat of his car. After his daughter's tragic death, he struggles to continue living. A divorce, years of heavy drinking, and sex with strangers only leave him more alone. But Ismail's story begins to change after he reluctantly befriends two women: Fatima, a young queer activist kicked out of her parents' home; and Celia, his grieving Portuguese-Canadian neighbour who lives just six metres away. A slow-simmering romance develops between Ismail and Celia. Meanwhile, dangers lead Fatima to his doorstep. Each makes complicated demands of him, ones he is uncertain he can meet." – Publisher
The Necessity of Certain Behaviors (M)
by Shannon Cain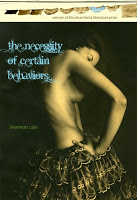 "Winner of the 2011 Drue Heinz Literature Prize, Cain's debut collection of nine short stories adroitly navigates the tenuous waters of human relationships. Her quietly august characters struggle to come to terms with the unpredictable nuance of tradition, sexuality, and happiness. Cain's confident and steady prose balances out the emotional tumult of stories just bizarre enough to be believable: "I Love Bob" chronicles the search for closure by a woman who believes Bob Barker to be her father; "The Queer Zoo" (you guessed it-"home to the largest collection of homosexual, bisexual, and transgender animals") serves as a strange locus for meditations on identity and the relief of letting go. Utilizing painful misunderstandings to maximum effect, Cain's characters arrive at epiphanies without relying on convenient tricks and plot devices. Dark moments that give way to enlightened reflection reveal characters whose selfishness is deftly managed. Cain highlights their humanity rather than calling it into question. She is especially adept at drawing forth vulnerabilities from her female protagonists. This is a work of finely calibrated emotional registers that will set the bar high for Cain's next book." – Publishers Weekly
The Dirt Chronicles (M)
by Kristyn Dunnion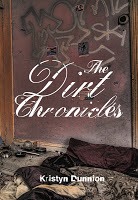 "Dunnion's book is a collection of tender stories of queer desire on the margins. But it is also an unsettling and pulse-pounding queer-feminist revenge-thriller, set to a loud and rebellious punk-rock soundtrack. Whether it is read as a short story collection or a novel, The Dirt Chronicles pulls no punches." – Briarpatch
"A tattooed young man regains consciousness in the Don Jail, charged with his friend's murder. An anti-social office clerk falls for a handsome bike courier and abandons his former life. An Ojibwe teen hunts for her kidnapped girlfriend in an illegal sex trade ring and seeks revenge. This is the intense reality of The Dirt Chronicles, Kristyn Dunnion's stunning debut story collection. In these linked tales, urban outlaws in Toronto map out their plans to take over the world while living collectively in an abandoned chair factory, destined for demolition according to a real estate gentrification plan. Their community is infiltrated by the King, a dirty cop bent on obliterating the city's defiant underclass and exterminating the group's rogue members; in order to survive, they may have to betray what they value most: autonomy, friendship, and newly discovered concepts of freedom. Audacious and loud, The Dirt Chronicles is a thrashing three-chord rejection of mainstream culture and the powers-that-be, and a combustible homage to class rebellion." – Publisher
When She Woke (M)
by Hillary Jordan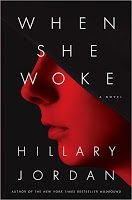 "A young woman's life goes from heavenly to hellish is this dystopian vision of The Scarlet Letter from Jordan, who won the 2006 Bellwether Prize for Socially Engaged Fiction for Mudbound, a searing portrait of racism. Jordan now proposes a further, more insidious form of discrimination. She imagines a society in which convicted criminals are chromed-their entire bodies dyed to a bright color-and sent into the world to face a sentence of public hatred and abuse. The victim in this story is Hannah Payne, an obedient daughter of a morally righteous family who senses a spark of sexual attraction with Rev. Aidan Dale, pastor of a powerful megachurch. Quickly, Hannah's life takes a turn toward abortion, conviction, incarceration, chroming, and government-sanctioned torture. Summoning up a newfound inner strength, Hannah goes on the run and follows an Underground Railroad-like path, where she learns to live by her wits and to trust no one. VERDICT Jordan offers no middle ground: she insists that readers question their own assumptions regarding freedom, religion, and risk. Christian fundamentalists may shun this novel, but book clubs will devour it, and savvy educators will pair it with Hawthorne's Scarlet Letter. Essential." – Library Journal
Wingshooters (M)
by Nina Revoyr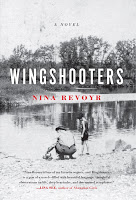 "*Starred Review* Revoyr continues her unique and affecting exploration of American racism in a concentrated novel that draws breathtaking contrasts between all that is beautiful in life and the malignancy of hate. Charlie, an alpha blue-collar male and a bigot like his buddies, is horrified when his son marries a Japanese exchange student. Yet when nine-year-old Michelle, his only grandchild, is abandoned by her estranged and feckless parents and left with her grandparents in their small, xenophobic Wisconsin town, Charlie loves her without restraint. As Deerhorn's first and only person of color, Michelle is subjected to constant insults and assaults, so Charlie teaches her to fight and shoot a gun, as well as to appreciate nature and play baseball. He calls her Mike, and she is beyond tomboyish, roaming the countryside with her only friend, her dog. Then the Garretts, an African American couple–she's a nurse; he's a teacher–arrive and ignite the town's worst fears and fury. Revoyr writes rhapsodically of a young girl's enthrallment to the natural world and charts, with rising intensity, her resilient narrator's painful awakening to human failings and senseless violence. In this shattering northern variation on To Kill a Mockingbird, Revoyr drives to the very heart of tragic ignorance, unreason, and savagery" – Booklist

Source: http://www.thereader.ca/2012/10/the-best-of-lesbian-fiction.html