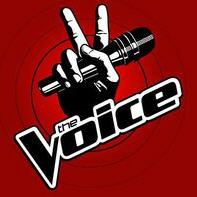 And we're back! Four hours of The Voice in a week feels a little excessive, right?
You know, thank goodness for the steals this season. It seemed like Adam and Christina got all the best performers, and their rejects are becoming the best members of other teams.
Team Adam
Lina singing "I'd Rather Go Blind" vs. Preston singing "No Woman, No Cry"
This was tough, because both of the performers were good but neither blew me away. I thought in the long run, Preston had more potential. Adam chose to keep Preston.
Team Blake
E.G. singing "I Can't Make You Love Me" vs. Ray singing "Hard to Handle"
I wasn't a huge fan of E.G. in earlier rounds, and I felt like she was in over her head at this stage. The performance was something that I'm used to seeing at my local karaoke joint. I didn't even think Ray was that great, but he easily won the battle. Man, Blake's team is weak this season.
Team Christina
Anthony singing "The Other Side" vs. Jacquie singing "Stompa"
Youngin's! I was a bigger fan of Jacquie than Anthony going into this, but I knew they were both talented. Unfortunately, I think young Anthony has a better handle on ballads than pop hits. I just think he needs more experience and practice. The performance was rough, but… good effort? Jacquie was much better. Her voice is amazing, and her stage presence is improving. She's so little and adorable, but fierce! I want to adopt her. Jacquie won, and rightly so.
Team Cee Lo
Stephanie singing "Don't Know Why" vs. Tamara singing "No One"
Oh man! Two singers I love going head to head. I adored Stephanie's song choice, while I think "No One" has been overdone on the singing competition show circuit. The reggae twist was different, but I was unsure about it. I LOVED Stephanie's performance. I might even buy it. Tamara bugged me because, she doesn't really have an accent, right? That was put on for the reggae performance? That annoys me. Anyway, I thought it was kind of boring. I much preferred Stephanie, but Cee Lo chose Tamara. But alas, Christina stole Stephanie! That's kind of cool, because Stephanie came from Team Xtina – a steal back!
Team Adam
James singing "More Than a Feeling" vs. Juhi singing "I Heard It Through The Grapevine"
James chose an incredibly hard song. Juhi chose a cheesy song. I was rooting so hard for James, but he didn't hit it. It was ambitious, but I felt like I could see on his face that he knew he blew it. I was sad for him. Juhi has a cool voice, but I think she's overly affected when she sings. It bugs me. James blew it, but I see more potential with him. Adam chose James.
Team Blake
Austin singing "I'll Be" vs. Brandon singing "Even If It Breaks Your Heart"
I thought Austin had a big advantage going into this one. He's been consistently good so far. Brandon just isn't my cup of tea, but he is Blake's jam. So I wasn't sure who would win. Blake gave it to Austin, which means Austin and Cole are my favorites on Team Blake.
Team Cee Lo
Caroline singing "The Way I Am" vs. George singing "Because Of You"
Caroline! I adore her and her song choice. George isn't really my jam. Caroline was so perfect and sweet, I want her to come sing me and my cat to sleep every night. Caroline is the kind of performer who makes a better recording artist than she will a TV show contestant, because she is what she is. I would buy her album, but I don't know if she can compete against someone like Tessanne every night. George was really bad. Cee Lo, thank god, chose Caroline.
Team Christina
Matthew singing "Cosmic Love" vs. Will singing "When I Was Your Man"
I wasn't surprised that Adam used this last steal here – this was a strong battle. Christina, why'd ya pair these dudes together? She should've kept 'em both. Matthew killed his Florence + The Machine song, and it was a challenge. It was so, so fantastic. I like Will, but I wasn't sure how he could possibly follow it – and he did! I was so mad that Christina had to choose between these guys, but I thought Matthew was a little better. Christina chose Matthew, and Adam stole Will back onto his team.
So! The teams are shaping up nicely. Who's is the best? Here's my ranking:
Adam has Will, James, Tessanne, Preston and Grey. That's a killer team. I think Tessanne is his best singer, but Grey and Will are both amazing too.
Christina has Stephanie, Josh, Matthew, Jacquie and Olivia. I truly enjoy everyone on Christina's team, but I think Matthew is her ace card. Olivia is sweet and a country singer, so bound to go far, but I like Jacquie and Stephanie more.
Cee Lo has Amber, Tamara, Kat, Caroline and Jonny. Caroline is my favorite here, followed by Kat – but I don't know that there's a winner of The Voice in the bunch.
Blake has Cole, Nic, Shelbie, Austin and Ray. This is the weakest team, I think, but I expect good things from Cole and Austin.
What do you guys think?