It has been a while, but the series is back
Not too many deals to report, hope that would change soon!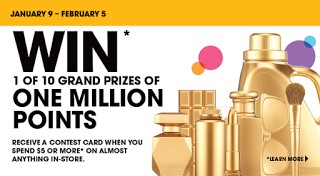 Shoppers: with a purchase of $5 or more on almost anything in store until February 5, receive a contest card for a chance to win 1 of 10 grand prizes of 1 million points and over 50,000 instant win prizes
– Nivea, Simple skin care: 25% off
– Aveeno, Neutrogena facial cleanser: CAD8.99
– Clean & Clear acne care: CAD7.99
– Bioderma Photoderm sun care: 30% off
– RoC Retin-ox Correxion, Clarifiant serum: 30% off
– Reversa skin care: 25% off
– Neostrata acne, Jouviance skin care: 20% off
– Aussie, Herbal Essences hair care: CAD2.99
– L'Oreal Hair Expertise: CAD3.99
– Maybelline Lash Sensational mascara, Fit Me: CAD6.99; Color Blur, Color Sensational Vivid Matte liquid lip: CAD9.99; Dream makeup (including the new Dream Velvet foundation): CAD12.99; Master Contour kit: CAD14.99
– Revlon Color Burst, matte, Super Lustrous lip: CAD4.99; Ultra HD lip (including the new Ultra HD matte lip color), mascara: CAD9.99
– L'Oreal Voluminous mascara, Colour Riche lip: CAD7.99; Voluminous Superstar mascara: CAD9.99; Infallible lip (including the new Pro Matte gloss): CAD12.99
– CoverGirl Plumpify mascara, TruNaked duo eyeliner: CAD9.99
– Annabelle brow: CAD9.99
– Rimmel eye, lip: CAD5.99; makeup: CAD8.99.
*** Bonus Optimum points:
– 15,000 points with $150 Lancome skin care purchase
– 10,000 points with $100 Estee Lauder purchase
– 8,000 points with Shiseido Bio-Performance or Ultimune skin care
– 8,000 points with any participating Lise Watier Labrador Tea skin care product
– 8,000 points with 2 Cover FX powder, foundation brush, matte setting powder or Total Cover cream foundation
– 5,000 points with purchase of any 2 Vichy skin products
– 5,000 points with Vichy Idealia day cream
– 4,000 points with purchase of any 2 La Roche-Posay Lipikar skin products
– 3,000 points with Avene Xeracalm skin care set
– 2,000 points with 2 Quo by Orly Color Amp'd nail polish, gels
– x20 points with Strivetin products
– x10 points with $50 Clinique purchase
– x10 pints with Maybelline brow products
– x5 points with No7 products
– Biotherm GWP of 2 Biotherm products.
Lawtons:
– Marcelle BB, CC, DD: 20% off
– Bioderma, Vichy: 20% off
– Garnier Clean+: CAD6.99
– L'Oreal RevitaLift: CAD19.99
– Maybelline Baby Lips, Color Show Kohl eyeliner: CAD4.49; Volume Express mascara: CAD7.99; Dream Velvet foundation: CAD12.99
– L'Oreal Infallible foundation, powder, pro spray: CAD12.99
– Annabelle Kohl lip/ eyeliner, Lipsies: CAD3.99
– Wet n Wild: 20% off (bonus Airmiles)
– NYX matte lipstick: CAD7.99
– Rimmel and Almay eyeshadow, eye/ brow liner, mascara, eye makeup remover: 20% off
– Color Club nail polish: BOGO.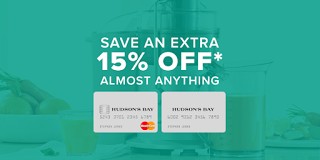 The Bay: 15% off almost anything with Hudson's Bay credit card/ MasterCard with code "WINTER" until Sunday. Exclusions (including beauty) apply.
Sobeys: BOGO week
– Nivea In-Shower body milk (400ml), shower gel/ cream (500ml), deodorant stick (43g), roll on (50ml)
– Biore skin care.