L-A: Almost five years ago, I was given a watch for my birthday. It was cool because I'd always wanted a Swatch. But two things happened:
1. The strap got weird and started to peel (what's up with that, Swatch?)
2. The battery died and because the strap was weird I put off replacing it
And then I did the cell phone thing for awhile, until the red watch I got free from Yelp last year that looked not unlike this: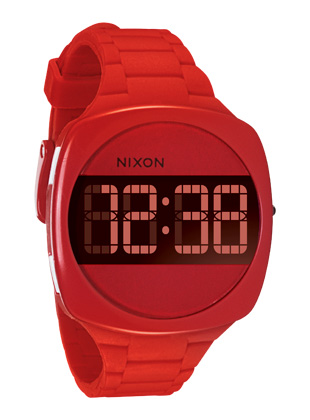 It was pretty rad until the strap broke and the numbers froze (dead battery?). But it was a free watch, so what are you going to do?
This has left me with only the following for the time:
This means I have to either go long stretches of time with no idea what time it is. Or I'm that girl who checks her phone all the time. And I need to. Because I have zero sense of time. I try to work with the clocks of the world, but my internal clock ticks to the beat of its own drummer. And sometimes that drummer is into random percussion instruments. Like the triangle. And then I'm never on time. Or I think I've been doing something for five minutes and it's actually been an hour.
All of this leads me to a rather long and winding conclusion that actually has a purpose: I need an effing watch already.
Husband wants to buy me one, but I'm completely frozen by watch indecision. Which watch to get?? Because as ridonk as this sounds, watch purchases feel permanent to me. Like you're only supposed to have one, so you best choose wisely. I know this technically is not true and I could have a watch for every different look I could dream up (nautical preppy, nautical hipster, nautical classy, nautical formal…the list is endless), but nice watches aren't cheap and I currently can't bring myself to own more than one nice watch. Because of this, I'm left pondering the following decisions. And be forewarned – I am all over the map.
Affordable and cute and plastic from Beyond the Rack?
And is colourful plastic the style statement I want to make with my watch? I can still get that same watch for more money elsewhere if I really and truly love it.
Or do I want to go with those rose gold Michael Kors numbers that I admire on the wrists of others?
To be honest, even though I admire these watches, when I put them on, there's something not right. This could be because all the ones I've tried on have been a bit on the flashier side.
Or maybe a stainless steel jobby, like this one from Kate Spade?
It seems like it would go with just about everything.
And then sometimes I think I want something a bit trendier. Like those La Mer wrap watches I see at Foreign Affair:
Will I get bored of it in a year? Because that would suck. Also, is it just me, but are roman numerals hard?
Finally, maybe something more casual like this Timex from J. Crew? Too casual?
 Honestly, I have no idea. I assume most of you own watches – how'd you decide what to get? Were you completely bogged down by indecision?
Source: http://feedproxy.google.com/~r/FashionablePeople/~3/1v2R76UjdF8/