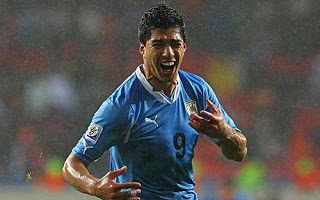 Luis Saurez scored 2 goals to lead Uruguay to an upset win over South Korea

by Henry Whitfield
Here it is folks! It's time for knockout rounds and the fun, drama and excitement that comes with extra time and penalty shootouts!
Today's matches feature dark horse Uruguay against South Korea, while in the other match we have the surprising USA facing off with the lone African side left, Ghana.
Uruguay 2 – 1 South Korea
The South Korean's went in slightly ahead as favourites and dominated the opening flourish of play. South Korea's speed and creativity were throwing off their opponents in the opening five minutes, but it was Uruguay who opened the scoring on the counter-attack in the 8th minute courtesy of a Luis Suarez strike.
The early goal settled Uruguay and the match remained even and both sides were unlucky not to score before halftime, as each side missed a number of chances. As strong as South Korea looked up front, their defence had been dreadful at times, keeping the game close for both teams.
Eventually, South Korea was able to break down the Uruguayan defence and in the 68th minute they tied up the match. From a free kick, Lee Chung-Yong jumped on a failed clearance and nodded the ball home.
With the sides trading chances, it was once again Suarez who would provide the difference, as he dashed in from the left and put a perfectly curled strike past a helpless Jung Sung-Ryong and into the back of the net.
With just ten minutes left, South Korea piled forward but Uruguay was able to see off the threat and booked their place in the Quarterfinals.
Man of the Match: Luis Suarez.
USA 1 – 2 Ghana
This game was a story of the American dream against Africa's final hope at this World Cup, and boy did it deliver an exciting ninety-minute.
USA missed an early chance, but it was a Ricardo Clark give away at half that allowed Kevin-Prince Boateng to race in and open the scoring just five minutes in. Moments later Clarke picked up a yellow card and the USA seemed to be losing their composure.
Just a few minutes after, Steve Cherundolo picked up another yellow card for the USA, while Asamoah Gyan had another chance to add to Ghana's opening score.
Coach Bradley shook things up early, replacing a woeful Clark with Maurice Edu and almost immediately it sparked a lacklustre American side. Robbie Findley had a shot on net and there it seemed that after the opening goal that the flow and pace had really opened up, but neither team were able to score before the half.
USA made their second change at halftime and brought on Benny Feilhaber for Findley, it almost paid off immediately when USA broke down the wing and Feilhaber poked a cross on net, but Richard Kingson stood tall and made a big save.
With wave, after wave of pressure being turned aside by Kingson, the Ghana defence finally cracked in the 62nd minute, when Jonathan Mensah tripped up Clint Dempsey inside the box and USA were awarded a penalty. Landon Donovan stepped up and slotted home the penalty, sending Kingson the wrong way, and tying up the match at 1 – 1 apiece.
The game slowed down, and it appeared that both teams were content to play for extra time and settle down for penalties.
Extra time kicked off with an early push by USA, however, with both teams looking tired it was the keepers punting long balls and slowing down the game.
That is, until Asamoah Gyan decided to score.
He had looked dangerous all game and after beating the USA defender he blasted a strike home past Tim Howard and put Ghana ahead 2-1 in the 96th minute. The US were once again forced to go on attack and fired cross after cross into the box, but it was to no avail as the African side held on until halftime in extra time.
In the last fifteen minutes USA pushed forward, as they powered on forward they were allowing Ghana a lot of space to counter and use their pace to push the ball up the field.
It was now a game of cat and mouse, with both sides looking dangerous but the Ghana players seemed happy to fall down and stay down, as they attempted to slow down the game and waste time.
In the dying moments of added time, Tim Howard went up front for a corner but his team were just unable to find a much needed goal and it was Ghana that prevailed heading to the Quarter finals and the Americans who were sent crashing out of the tournament.
Man Of The Match: Asamoah Gyan