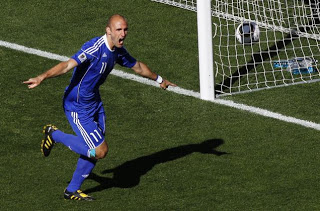 The defending champions got their World Cup defence off to a stutter and the Netherlands showed they aren't crashing out this year, but much more football today!
Today starts with a mouth watering matchup between minnows New Zealand and Slovakia, a matchup unlikely to provide many goals and even less likely to provide any entertainment.
That match is followed up by the start of the Group Of Death, with Ivory Coast playing Portugal in a match that could easily decide who comes second in the group. Didier Drogba has been cleared to play with a protective task and will be raring to go, while the hopes of Portugal seem squarely placed on the spoiled shoulders of Christiano Ronaldo.
The beautiful part of the beautiful game arrives in the next matchup when Brazil opens their tournament against North Korea, a team shrouded in secrecy and under much scrutiny after recent global events.
New Zealand 1 – 1 Slovakia
Well then, it's tiny New Zealand led by captain Ryan Nelson, who could probably play for the All Blacks, facing Slovakia, a team that cannot afford to drop points today.
The opening half lacked finish and had very few quality opportunities and surprisingly it was New Zealand that carried much of the early play before a late barrage of shots by the Slovakian forwards.
Early in the second half the deadlock would be broken and through Slovakia's first ever goal at a World Cup final, they took a 1-0 lead in the 50th minute. This seemed to spark the game and both teams started to push forward, trying to get the next goal, and this opened up the run of play.
Although New Zealand had a few chances, it was the Slovakians that dominated the second half, going forward in droves and pushing hard for their second goal. Time was running out for the All Whites and their chances were becoming few and far between.
There was to be late drama at the Royal Bafokeng Stadium in Rustenburg, with just 30 seconds left in injury time New Zealand put a ball into the box and unlikely hero Winston Reid headed home from just 8-yards out to steal a point away from Slovakia.
Man Of The Match: Winston Reid
Ivory Coast 0 – 0 Portugal
In a match that many see as a decider between who goes through to the next round in second place, the African side Ivory Coast would have to beat Cristiano Ronaldo and an inspired Portuguese side.
The Ivorians were without Didier Drogba in the starting lineup but that did not seem to affect them, as they came out hard and showed clear attacking intent. Portugal countered well and weathered an opening barrage, while Ronaldo came close with a long-range effort that clanged off the woodworks.
However, the Ivorians were able to get Ronaldo off his game and after some handbags both he and Guy Demel were booked after Demel sent him tumbling. From that point the Portuguese Captain seemed ineffective and some heavy tackling by the Ivorian defence kept him in check.
The best player on the pitch for the Ivory Coast was Gervinho, only handed a start because of Drogba's absence, and he terrorized the Portuguese defence with his pace and sent cross, after cross in the box.
With 25 minutes to go, Ivory Coast manger Sven-Goran Eriksson introduced Drogba and his presence injected some more life into the game. Although he was unable to find the score sheet, the iconic African striker came close in the dying seconds but this match was destined to be a nil – nil draw.
Man Of The Match: Gervinho
–
Brazil 2 – 1 North Korea

On paper this was a match not worth playing, but that's the beauty of the World Cup, where any team can win on any given day and with North Korea having a history of being World Beaters on the big stage, this match was always going to be an interesting one.
This was the first time many fans would see a Brazilian side that didn't feature Ronaldinho and in fact, focused more on preventing goals than scoring goals. Under coach Dunga, a defensive specialist when he played, the team has been built around a strong defensive base and moves forward from the back.
The five time World Champions started strong but a determined North Korean side showed discipline and an intensity that was slightly unexpected. With 104 positions between the two sides in the FIFA rankings, the Brazilian players were clearly frustrated by a resilient defensive line.
The first half finished drawn at no goals apiece, but Brazil came out enthused in the second half and threw a barrage of shots at the North Korean keeper. Defender Maicon worked all the way up the field, and from a terrible angle beat the goalkeeper on the short side, and the goal woke up Brazil, as Robinho set up Elano and he made no mistake to double the lead to 2-0 in the 71st minute.
The Koreans would add a consolation goal in the 90th minute, but in all fairness this result was never in doubt.
Man Of the Match: Robinho
Daily Roundup
– Today's match between Ivory Coast and Portugal was a lacklustre affair, and seemed like two teams who were playing not to lose, instead of trying to go out there and win the game. Fortunately we had the theatrics of Ronaldo to keep us entertained, diving no less than four times in the match.
– Gareth Barry will be available for England's matchup with Algeria on Friday and this will give manager Fabio Capello room to tinker around and move his Captain Steven Gerrard to the left or up front.
– It is quite interesting that the team who has done the best so far in this World Cup, Germany, was able to use the World Cup ball all season in their domestic league. Coincidence? Not sure, but look for an article coming your way soon.
Henry Whitfield is an avid sports fan who covers everything and anything in the sports world, while focusing on hockey and football. Follow him on twitter @HenryWhitfield.