As Valentine's Day approaches, people are doing their usual scramble of trying to get reservations to their favorite restaurants. While this is a lovely opportunity to show your special someone how much you care, I can't think of a better way to express it than to make food together!
Just think, what could be more romantic than turning on some good music, opening a bottle of wine and making food together – it's so much fun! So…in order to assist, I thought I might share with you a lovely meal – made simple!
I've always been a sucker for ravioli, and the opportunity to put my favorite ingredients inside, but I didn't quite know how to get around the pasta part. So one night, while feeling gutsy, we decided to make our own pasta using wonton wrappers.
This was pretty much a 'throw it in' type of meal, so unfortunately, I don't have any measurements for you. However, think of it this wya – that makes the meal more of an adventure, right?!?
We sauteed chopped onions, mushrooms and garlic, then added some (thawed) frozen spinach, ricotta, grated Parmesan cheese and seasonings. We also fried up some thick cut bacon to add a meaty richness.
Simply put the filling in a corner of a won-ton wrapper and moisten the edges. Then fold over and press the edges together and voila!
Though the prep might take awhile, the cooking time is minimal. Cook the ravioli in boiling water until they float to the top – around 3 minutes, and you're done! Over the Christmas holidays, I also made this with a filling of butternut squash, smoked chicken and cream cheese, topped with a brown butter-saege sauce and toasted walnuts. Holy canolli, those were good!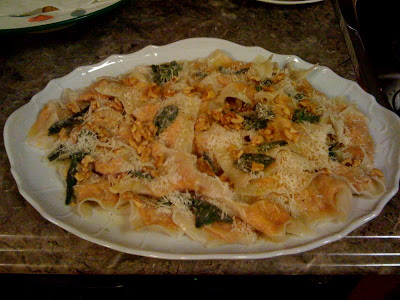 Aaaaaannnyway, back to the matter at hand, a nice garlic cream sauce and a dusting of freshly grated Parmesean make this a rich, decaent, tailor-made pasta for two!