Wow. Alice Cooper. Wow. That was one weird opening number, from the punk-rock-Hogwarts outfits to the weird zombie children to the fact that Alice Freakin' Cooper was performing with the American Idol kids.
It was quite a way to open the American Idol finale, which saw Chicago audition-goers Lee DeWyze and Crystal Bowersox vie for the Season Nine title. For anyone who only tuned for the finale, it's been a snoozer of a season despite some solidly talented contestants. The finale didn't disappoint, though – with the group and guest performances and the tributes to Simon Cowell, I was fully entertained throughout the two-hour show. In fact, it wasn't until the last few minutes of the show that I remember "Hey, they still have to announce the winner!" And the winner was the shy paint salesman from Chicago, Lee DeWyze. He was outsung on Tuesday night, but I felt the season belonged to him and that he deserved the win.
But first, let's take a look at the two hours of material that led up to Lee's victory.
The show really changed gears after the Alice Cooper performance and last season's good guy winner Kris Allen came out to sing. The sound kind of screwed up for Kris' performance and we could still hear Ryan's mic in the beginning, but it was a decent performance. He's got a pretty catchy tune on the radio right now and I would have preferred to hear that.
We got to watch a pretty funny montage about Simon Cowell and how "kind" he is, and then we were treated to an Aaron Kelly and Siobhan Magnus duet. That was like pairing a mouse with a howler money, but luckily it was quickly over and the remaining two BeeGees came out. I love the BeeGees, but one was really fat with long, gross hair and the other was like a skeleton in a suit. I love the BeeGees (and I'm proud to say it!) but they kind of freaked me out.
The BeeGees performance was good, but I didn't like the pairing of Siobhan and Aaron. However, I really enjoyed Big Mike's performance with the Doobie Brothers' Michael MacDonald. It was a fun song, and luckily for everyone Big Mike didn't lift up Michael MacDonald at the end.
Next up was a song by Dane Cook, who I love, featuring all of Simon Cowell's best barbs over the years. It was pretty charming, up until all the famous rejects came out to jump around. Then he got Kanye'd at the end (seriously, he confirmed that on Twitter) and some crazy guy grabbed the mic from him. That's what happens when you put people like that in the spotlight, American Idol producers!
I loved the Idol ladies' medley of Christina Aguilera songs, but Christina's performance itself was a bit of a downer. Look, I love her. Like, really, really love her. But that was not her best performance, and it was a weird song choice for the Idol finale. Also, it was really the kind of song one should be wearing pants for. Luckily, Ricky Gervais brought the mood back up with a witty farewell to Simon. He informed us that Simon has helped many people achieve their dreams and "he only takes 80% of their wages" and that he's so rich he actually throws away money. You know, when it gets too wrinkled.
Lee came out to open a little Hall & Oates ditty, which really got my mom excited. As she said, this was like the 1970s dream episode. He was joined by all the Idol dudes for the medley. I always get a kick out of how incredibly awkward Casey looks during group numbers, and how incredibly in his element Big Mike is – he can really ham it up during these numbers! The boys welcomed Hall & Oates to the stage and it was a pretty good performance.
Crystal came out to sing "Ironic" and it was a great performance – although I was surprised she could manage to sing in that crazy-tight/ugly corset. Then Alanis Morissette (!) came out to sing "You Oughta Know" with Crystal. It was a great pairing and the ladies looked like they were having a blast, but that was kind of the problem. "You Oughta Know" isn't really the kind of song one sings with a smile on one's face. I wished they'd chosen a less angsty song for them to sing.
Next up was one of my all-time favorite Idol winners, Carrie Underwood. A highlight of the night for me, since I love her and have loved "Undo It" since I bought the CD. I saw Carrie live a couple years ago and she sounded EXACTLY like her albums and she definitely wasn't lip-syncing. She sounded and looked great. Also, how fab was the violin player in the top hat? If you're going to be in the background on American Idol, you might as well rock it.
Crystal and Lee both got their personalized Ford Fiestas, and I was jealous. I used to want personalized Chuck Taylor sneakers, but now I want to design my own car.
My favorite duet of the night was Casey James and Bret Michaels. I wasn't sure what Casey was singing at first, but as soon as he got to the chorus I knew – my Celebrity Apprentice favorite Bret Michaels was coming out! Did anyone else kind of cross their fingers the whole time that Bret wouldn't have a stroke onstage? I'm worried he's pushing himself for a guy who's had more than one recent brush with death. But it was a really fun, entertaining performance.
Lee performed a medley of hits with the band Chicago. I'm not a huge fan, of the band but I was surprised at how many songs I knew. And my mom, of course, was enjoying the addition to her 1970s dream concert. Chicago doesn't have their original lead singer anymore, and Lee sang their vocalists under the table. Even so, it was great to see Lee surrounded by such a great band. The nerves he experienced on Tuesday night were nowhere to be found.
After another Simon tribute video, there was a choreographed performance of that classic Idol tune "Pants on the Ground". It was all going swimmingly – an old man doing James Brown era dance moves, lots of fools with their pants on the ground – and then the unthinkable happened: William Hung joined him on stage. What will it take to get rid of this loser? It's ridiculous! I didn't want to see him singing that Ricky Martin song and I don't want to see him singing my precious "Pants on the Ground".
After yet another video tribute to the relationship between Paula and Simon, Paula came out on stage for a bit of awkward Simon-related stand-up comedy. Oh, loopy, drug-addled Paula. How we've missed you.
The Idol winners' tribute to Simon, which I knew was coming, was really cool. I was sad that David Cook was missing, though. Then to see all those Idol alums come out was kind of mind blowing. I was shouting names out left and right. Say what you want about reality television, but American Idol has introduced some tremendous talent over the years.
The whole Janet Jackson thing was the worst part of the evening for me. I've never been a huge fan of Janet, and it kind of sounded like she was lip-syncing to Michael's voice. Then the catsuit she had on for the dance number was so distracting that I couldn't pay attention to the rest of the performance. I was worried she'd experience another boob-gate.
Watching Lee and Crystal's "journeys" made me root for Lee that much more. I think Crystal is fantastic, but I just love Lee and I thought it seemed like he really wanted it more. But watching the two finalists perform one of my favorite songs, "I Get By With a Little Help From My Friends" I was blown away. They truly both deserved the win, and I would have been happy either way. It was an outstanding performance, made even better by the fact that Joe Cocker was there. In a really funky jacket.
Finally, it was time for The Moment – who would win? Even though Crystal clearly had a better night on Tuesday night, I felt in my heart that it was Lee's to win and was hoping America had agreed. Seacrest paraded out the stiff with the results envelope – he was British this time – and Seacrest called for the lights to be dimmed. As I watched Lee get all pale and sweaty, as though he was about to throw up, I really wanted him to win. He just wanted it more, it meant more to him.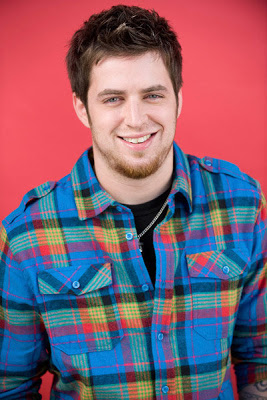 And he got it.
It was really touching to see Lee's reaction. It obviously meant a lot to him, he worked hard for it and he deserved it. And I have a feeling Crystal will be just fine.
So that's a wrap, folks! It wasn't my favorite season, but it picked up toward the end and the finale wasn't half bad. What did you think?