In that Colour Pop order besides the To Go sets, I also grabbed a few creme gel liners, seeing as they were pretty new back in November.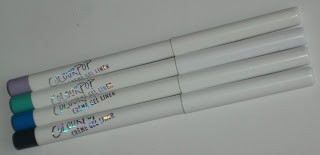 Supposed to have long wearing formula with full coverage, smooth and creamy application without tugging/ pulling, these liners could potentially fit in my trusted lineup of Avon SuperShock gel eye liner pencils and LA Girl Glide gel liners.
I figured pastel liners are the new black so I got Cry Baby and Zulu to contrast the dark ones I am always drawn to – Bee Sting and Workout.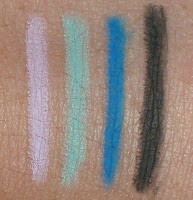 Cry Baby, described as a pastel lavender, and Zulu, a pastel sea foam green, are amazingly opaque. I love them on the lower lash line.
Bee Sting, a turquoise blue, and Workout, a blackened forest green, are equally gorgeous.
I find most of the claims stay true. Pigmentation does not disappoint and wear time is almost as good as my favorite lines mentioned above. The swatches set after a few minutes but do smudge with a swipe of my finger. On the eyes, they start to fade late afternoon. In short, these not a complete winner for me.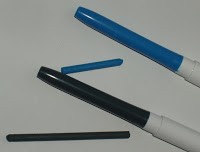 A note on the format: the thin core of these liners does not seem to work with the twistup mechanism, as 2 of the 4 shades came broken inside the tube, and the pieces fell right out when I opened the cap.
I managed to push them back in to make swatches, but don't think application on the eyes will be precise. And because the package arrived while I was on vacation, it missed Colour Pop's 2-week claim period, so I have to swallow this loss.
There are 24 liner shades, with matching creme gel colours. The pencils are 0.2g/ 0.01oz, $5 each.