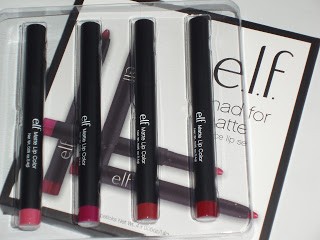 Third case of not-so-matte finish: Elf Studio Matte lip colours
My first experience with the line was Natural, then Tea Rose when I was looking for NARS El Agua dupes.
I like the formula (supposed to be enriched with Vitamin A, C and E for hydration), the twistup format (plus a sharpener at the end) and the colour range.
Because the finish was not truly matte, I did not get any more shades until this Mad for Matte holiday set with 4 best selling shades – Dash of Pink, Berry Sorbet, Cranberry and Rich Red.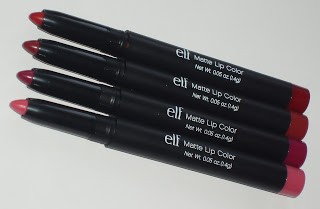 A bold bunch on the red side, I would say, festively appropriate for the holidays.
The undertone of Dash of Pink and Cranberry is very similar, then add some red pigments and we have the fabulous Rich Red
Berry Sorbet, with that berry tone, is the darker sheep in the group but still not significantly different.
I enjoy the colours in this set but maybe need a neutral in there. They are easy to wear, wear pass lunch and a few drink of tea/ water. I am happy overall.
The set was $10 on Elf website (LE but the shades are still available individually, $3 each), CAD15 at Old Navy. I had a 50% off coupon before the holiday, great score!