The trough of low pressure responsible for rather disorganized areas of snow and rain over the Maritimes did result in some heavy snow in New Brunswick overnight.
 The following airport totals were observed as of 6am:
Saint John: 27cm!  Gagetown: 13cm
Whether you are seeing rain or heavy wet snow, road travel is being negatively impacted today.
This trough will merge with an ocean low tonight.  As it does, precipitation rates will increase once again, and the rain will change to snow over Nova Scotia and eastern Prince Edward Island.  Immediately following the changeover, there will be a period of heavy snowfall, with rates of between 3 and 5cm/hr. This high rate of accumulation reduces visibility and deteriorates road conditions very quickly.  Folks should really try and avoid any travel during this period of heavy snow that is forecast to occur during the following times:
Halifax 10-12 cm between 8pm and midnight.
Antigonish 20 cm between 8pm and 4am.
Sydney 20-25cm between 10pm and 6am.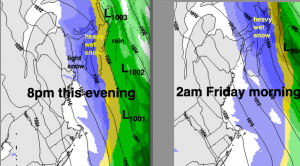 Although not as sharp a transition to heavy snow, some heavy snow will persist late this afternoon into the evening in Southeastern New Brunswick, Prince Edward Island and Western Nova Scotia, impacting road travel during  the busy drive home.
Total snowfalls are quite variable… but some high amounts in eastern Nova Scotia tonight, closer to the track of the Ocean Low that is heading into Newfoundland.
After this busy period of messy weather, there is expected to be break through the weekend (to continue the clean-up or enjoy the fresh snow!)