The evolution of the weather later today, through Thursday and into Thursday night is complicated by the merging of a weak trough with an ocean low.
 The trough will swing into the Maritimes later today with some light snow.  On Thursday, the precipitation on the trough will become more intense (rain or wet snow in Nova Scotia, snow in New Brunswick and Prince Edward Island) as an ocean low approaches from the south.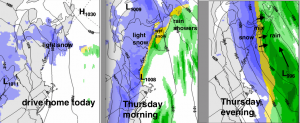 As the ocean low intensifies Thursday night, it will drag cold air into it.  This will change the rain into snow over Nova Scotia, with some wintry mix of ice pellets and freezing rain possible in the changeover.
Because of the rather complicated evolution of this system, the timing and amounts of precipitation are not easy to forecast.  Therefore, I have opted to display a probability chart, highlighting the area where significant snowfalls (15cm) are most likely for the 24 hours from Thursday morning to Friday morning.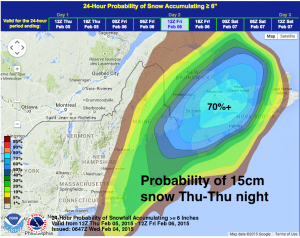 Even a few cm of light snow over New Brunswick and parts of Nova Scotia-PEI later today will just add to the slippery roads from the last storm.  As the precipitation intensifies during the day and into the evening Thursday, along with stronger winds, travel will be impacted more significantly. Stay tuned to the official Environment Canada warnings for this complex system.
Stay safe