After a brutal winter, and a cold April, the pattern changed almost perfectly at the beginning of May.  Consequently the temperatures, while not remarkable, were comfortably above normal in many parts of the Maritimes.
 As well, the dry trend continued, with the region on average receiving about half the normal rainfall.  Fredericton was closest to normal; however, 30mm was received in a very short time with thunderstorms last Thursday (28 May) which resulted in flash flooding.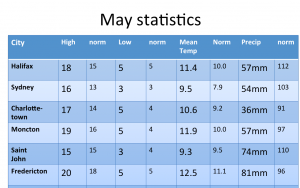 A cold front passed by Sunday (31 May) has placed the region in a cool damp pattern to begin June.  In fact many communities in Nova Scotia will receive more rain in the first three days of June than they received in all of May!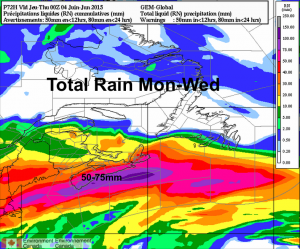 The computer models are thankfully returning the temperature to more normal and warmer values; and rain events appear to be more regular in June.