As Tropical Storm Bill dumps as much as 200mm of rain on an already saturated state of Texas, it is heading for Oklahoma.  Flooding is the major impact with this storm.
As I discussed in the previous Post related to Hurricane Blanca, the energy and moisture from these tropical systems can persist for days after the storm itself has dissipated.
Looking at the forecast charts, it does appear likely that the remnants of "Bill" will move off the eastern seaboard late on the weekend.  It is reasonable for a new low pressure area to develop.  Depending on the timing and the track of this system, some parts of the Maritimes may experience a healthy shot of rain Sunday night or Monday.  I'll update this outlook via Twitter, and Environment Canada will issue warnings should heavy rainfalls become likely.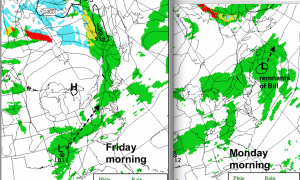 It is worth commenting on the fact that a cool airmass has been following the passage of systems over our area.  This is continuing Wednesday, following the passage of tonight's front.  Showers on Friday will be followed by a cool brand of air.  We can expect cool air to follow whatever develops from the remnant of Bill.
As July approaches, it is more likely we'll experience more prolonged periods of warmer and more humid weather.