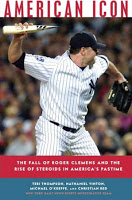 Found this on the CNNSI website. It's a piece from an upcoming book about Clemens' steroid usage. I just finished a similar book called "The Rocket That Fell to Earth",
Excerpted from AMERICAN ICON: The Fall of Roger Clemens and the Rise of Steroids in America's Pastime, by Teri Thompson, Nathaniel Vinton, Michael O'Keeffe and Christian Red. Copyright © by Teri Thompson, Nathaniel Vinton, Michael O'Keeffe and Christian Red. To be published May 12, 2009, by Alfred A. Knopf, a division of Random House, Inc.
In their reporting for American Icon, the book from which this article was adapted, the New York Daily News investigative team of Teri Thompson, Nathaniel Vinton, Michael O'Keeffe and Christian Red reviewed thousands of pages of court documents, congressional depositions, police reports, medical files and transcripts of secretly recorded phone calls. They interviewed MLB players and executives, players' association officials, U.S. congressional leaders, law enforcement agents, attorneys, steroid suppliers, trainers, doctors and doping experts. Their repeated requests to speak to Roger Clemens were refused. The team's original reporting for the Daily News won the Associated Press Sports Editors award for Best Investigative Reporting in 2008.
Even to a former New York City cop, the question was jarring. "Can you help me?" Roger Clemens asked. "I can't inject in my booty."
This is how Brian McNamee, then the Toronto Blue Jays' new strength and conditioning coordinator, remembers it all starting. He glanced up at Clemens, whose broad frame blocked most of McNamee's view of the rest of the SkyDome clubhouse. A few other players milled about the room, preparing for the upcoming series against the Baltimore Orioles. Toronto designated hitter and occasional outfielder Jose Canseco was picking through his stall nearby, his back to Clemens and McNamee.
The trainer, who had come to baseball from the NYPD, was slumped in his own stall. Why, he wondered, was arguably the greatest pitcher of his era asking for help in sticking a hypodermic needle in his ass?
Clemens handed McNamee a small, white, opaque container resembling an aspirin bottle without a label. "What do you think of these?" Clemens asked. McNamee took the container and poured some white pills into his hand. They looked like oral testosterone, a substance he had only recently researched. "That looks like Anadrol-50," said Canseco, suddenly barging into the conversation. Before McNamee or Clemens could object, the burly Canseco took a couple of the pills and shoved them into his mouth.
McNamee wheeled around to face Clemens. "Don't take that," he told the pitcher. "That's really bad for you." Clemens then gave McNamee a bag filled with 50 to 100 glassine bottles and told him to get rid of them. McNamee later suspected that the bottles contained cypionate or enanthate: straight testosterone.
At 35, Clemens was Toronto's staff ace and highest-paid player, pulling in a cool $8.55 million. Two-and-a-half months into the 1998 season, however, his record was a pedestrian 6-6. He was less than a year removed from going 21-7 and winning his fourth Cy Young Award, but something was off, and his club was suffering as a result. Toronto was fading fast in the American League East standings.
During spring training McNamee had taken stock of Clemens's flabby physique. He didn't think the pitcher would continue to be successful without a change in his conditioning routine, even though Clemens maintained that his workout regimen was unequaled in professional sports. Now the Rocket wanted someone to help him with needle injections?
Clemens was aware of the recent strains in McNamee's personal life. At the end of spring training, a family emergency had called the trainer home to Queens. His one-year-old son, Brian Jr., was diabetic. McNamee and his wife, Eileen, spent the better part of a week being taught how to prick their infant's finger for a drop of blood, test it for hyperglycemia and then inject him with the appropriate doses of short-acting and long-acting insulin. McNamee learned to mix the insulin and draw it into needles for subcutaneous shots. It was a delicate process, getting the exact amount of the hormone into a pinch of fat so it could be released gradually into the bloodstream. The Toronto players and staff felt sympathy for McNamee. Clemens was among those who had expressed concern for Brian Jr., but now his motives seemed decidedly personal.
McNamee looked back at Clemens. "Yeah," the trainer said. "I think I can handle that."
"All right," Clemens said. "I'll let you know."
One of the perks of playing for Toronto was living in the luxury hotel attached to the stadium. Only five minutes after a hard game, an exhausted player could crash in one of the 70 rooms beyond the outfield. When the team was at home, Clemens lived in a SkyDome apartment with floor-to-ceiling windows looking out on the diamond.
Shortly after their clubhouse conversation that day in June, Clemens summoned McNamee to the apartment, and by the time the trainer arrived, the pitcher had already laid out some clear glass vials containing a cloudy white liquid. The labels identified the substance as Winstrol, an anabolic steroid. There were some large needles, too, and sterilizing alcohol.
There was one problem. McNamee had experience only with the small-bore subcutaneous needles he used to inject his son. He was now looking at wide-bore needles meant to puncture dense muscle and inject a thick fluid deep into tissue. His mind began racing. He had no authority to give injections to players, let alone to the face of the franchise. But Clemens had asked, and McNamee had agreed. There was no turning back. Anyway, McNamee figured, Clemens was more prone to hurt himself if he stuck needles into his own ass.
The pitcher bent over. McNamee dabbed Clemens's skin with alcohol so as not to cause an infection. Then he stuck the needle into the pitcher's buttocks and depressed the plunger of the syringe. Now they were accomplices.
From that moment McNamee and Clemens had the kind of relationship that can create the tightest bonds of loyalty — and pave the way for a painful falling out. When they had first met, at that season's spring training in Dunedin, Fla., Clemens still felt remnants of the bitterness that had consumed him after his dismissal from the Boston Red Sox following the 1996 season. He'd poured his guts into that team for 13 years, only to be sent off with what he perceived as an insult: Boston general manager Dan Duquette said Clemens had reached "the twilight of his career." After signing a three-year, $24.75 million contract to play for the Blue Jays in 1997, Clemens shot back, "I could pitch till I'm 45 because of the conditioning I do, especially with my legs."
Police work was the McNamee family business, and Brian had had his share of big moments during his three years and four months on the force. Working undercover, he had patrolled Manhattan in a Yellow Cab; he locked up 77 people and won numerous commendations. One day in 1991, while on foot patrol, he got a call to head to a five-story walk-up near Lexington Avenue. What he found there would remain vivid in his memory: the body of four-year-old Conor Clapton embedded in the tar on the roof. The boy, the son of rock star Eric Clapton and Italian actress Lori del Santo, had fallen from a window in the high-rise apartment building next door.
Now McNamee's gig with the Blue Jays was his foothold in the glamorous world of professional sports. He was 31 and not getting paid much, but he was close to fame and glory. He'd played baseball for Archbishop Molloy High in Queens and had been a good enough catcher to play for St. John's University, helping his team upset defending national champion Stanford in the 1988 NCAA tournament. After college McNamee had played a little semipro ball in the New York area, and after leaving the police department in 1993 he had worked briefly as a bullpen catcher for the Yankees.
Despite their differences in accent and income, Clemens, the swaggering jock from Texas, and McNamee, the sardonic ex-cop from New York, shared a passion for baseball. Clemens was determined to prove he wasn't fading, and McNamee, having just arrived at the Show, was committed to staying there. So there would be other injections, but with the first one the two men crossed a stark line into territory they would never escape: Clemens became a cheater, and McNamee became his enabler.
DECEMBER 2007
Only days before the release of the Mitchell Report on performance-enhancing drug use in baseball, Clemens sat on the patio of a casita in Cabo San Lucas, Mexico, after receiving a phone call from his agents, Randy and Alan Hendricks, that would change his life. McNamee had told federal law enforcement agents investigating a steroids distribution network run by former New York Mets clubhouse attendant Kirk Radomski that he had helped Clemens use steroids and human growth hormone over a period of several years beginning in 1998. McNamee had also been cooperating with former senator George Mitchell's investigation.
In the weeks to come Clemens would attack McNamee on 60 Minutes and in a defamation suit, and his attorneys would smear McNamee's character. They would secretly record McNamee in conversations he thought were private. But Clemens would never mention the moment of truth in Cabo; he would say that he didn't know about McNamee's accusations until days later, in Houston, and that he'd been blindsided by his trainer's betrayal.
In Cabo, Clemens tried to absorb the news, but to friends who were with him there — ballplayers and businessmen — he didn't seem panicked. He'd spent a lifetime cultivating an ability to control his world. In Clemens's mind this situation was just like any other game in which he had gotten behind in the count. He could gut his way through it. He just needed to throw his opponents a little chin music.
FEBRUARY 2008
With the confident stride of a baseball legend, Roger Clemens arrived at Capitol Hill on the morning of Feb. 5 for his deposition before investigators for the House Committee on Oversight and Government Reform. He wore a gray pin-striped suit buttoned tightly across his wide chest. He carried a small vinyl briefcase in his left hand, and in his right hand — the one with which he collected 354 big league wins — he carried a large paper cup with a tea bag label hanging out.
Flanked by his lawyers, Rusty Hardin and Lanny Breuer, Clemens entered room 2157 of the Rayburn Building, took the oath and promptly declared, "I have not used steroids or growth hormone." He repeated this denial, in various formulations, six times in the first 30 minutes of the exceedingly awkward meeting.
These were probably the most important sentences Clemens had ever uttered. The sworn statements were direct and unequivocal, and they were recorded verbatim. From that moment forward, if it were ever proved that Clemens had used steroids or HGH, he could be prosecuted for lying to Congress. For much of the deposition he sat silently while his lawyers spoke to the investigators, clarifying the pitcher's answers and bashing the methodology of the Mitchell Report. Clemens had eagerly looked forward to testifying. It was his chance to demonstrate resolve and, it seemed, to blow off steam.
"Brian McNamee did not make me as an athlete, despite his ongoing claims," Clemens said. "I had a great workout ethic before I met him." Clemens's legacy was at stake. For nearly two months people had been wondering what drove him to deny McNamee's stories, even after his longtime friend and teammate
Andy Pettitte
had confirmed McNamee's allegations to Mitchell Report investigators about Pettitte's use of HGH. Clemens didn't want anyone to think he had cheated — that he had taken the easy route to the unprecedented success he'd enjoyed late in his career.
"I have never smoked a cigarette, I have never smoked dope, I have never done cocaine," Clemens said about halfway into the five-hour deposition. "I would not put anything — allow anybody to put anything — in my body that's going to be harmful to me. That's who I am as a person."
Clemens claimed it had been "shocking" to learn that Pettitte had used growth hormone. "I would think that we were close enough to know that if he was thinking of doing it, or did it, that I would have known," the Texan said. He could not explain why McNamee might have lied about him yet told the truth about Pettitte. "This man has me being a drug dealer," Clemens said. "Very upsetting…if you have seen my interviews. Very upsetting."
The committee's investigative staff had, in fact, seen Clemens's interviews. They had watched his denials on YouTube, 60 Minutes and at a press conference in Houston. Clemens had boxed himself in with the claim that McNamee had injected him with B12 and lidocaine, not steroids or HGH. Now he was forced to repeat and explain those claims under oath. He had to testify about his wife's use of HGH, which had come up in Pettitte's deposition to investigators. (Two days after Clemens's testimony, McNamee would tell the investigators that in the winter of 2002-03, at Clemens's house in Houston, Clemens had summoned him to the bedroom, pulled a vial of growth hormone from a shaving kit in the bathroom and instructed him to inject Debbie Clemens.) Clemens also had to discuss a decade-old medical report that described a "palpable mass" on his buttocks where an MRI revealed a "collection of fluid deep within the subcutaneous fat, likely related to the patient's prior attempted intramuscular injections."
A week after his deposition Clemens returned to Capitol Hill for the Feb. 13 hearing that laid waste to his legacy. Ten minutes before the hearing the ranking Republican on the House committee, Tom Davis of Virginia, offered Clemens a chance to back out, but the Texan waved him off as he would a catcher who'd called for the wrong pitch.
Two weeks after the hearing the committee referred Clemens's testimony to the Justice Department for a possible perjury investigation that has since led the FBI into the darkest corners of the pitcher's life. McNamee had seen it all coming; during the hearing he sketched a game of hangman on his notepad.
SPRING 2009
Roger Clemens has been keeping a low profile, like a soldier caught behind enemy lines. Charities once proud to feel his embrace have cut their ties. At the final game at Yankee Stadium last fall, Clemens's accomplishments were not recognized, while Pettitte had the honor of starting the game. Clemens's defamation suit against McNamee was all but gutted by the presiding federal judge on Feb. 12. In the course of their perjury investigation, FBI agents Heather Young and John Longmire interviewed Clemens's friends and business associates, as well as gym owners, doctors and former teammates, looking for connections between Clemens and the steroids underworld.
While Clemens has put himself on the verge of a federal indictment, McNamee is trying to pick up the pieces of a broken life. He contributes to a website started by some friends in Boston, SportsImproper.com, and is rebuilding his training business. He is preparing to sue Clemens for defamation. He has met with prosecutors in Washington, D.C., and been told to be prepared to testify before a grand jury. Members of Congress — including ones who once defended Clemens and attacked McNamee — now say they expect to see the Texan indicted.